dog & cat, cat & chicken, chicken & worm, human & human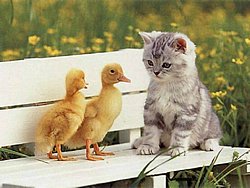 Brazil
November 30, 2006 2:29am CST
People are hurting each others.. indiferent theyr religions... interest.... if someone helps somebody... there´s sometihng behind... some marketing... some self interest or.... u know... if all people help someone whith feeling... the good one, sure... maybe our sick world cant be more pleasant... our nations making good and healthful knowledge about each other... is a dream. i know.. hahaha.. "nowadays"(3.000ac until 2000 and a little bit..) people is loosing theyr goodies... person turns cold people very fast... loose the sense of right and wrong... hurting closer people... hurting distant people... ... sometime i talk to my daugther, my causin, and every teenagers that i meet(i´m kidding.. great 83 hehe): . ... " u´ll meet the windows... u´ll meet the windows"... ... i mean.. they ´ll meet the world.. whith a lot of virus.. deseases... and yes... is a joke.. they i´ll meet this s.h.i.t world ... yes.. this one... that we are making to all of them... our heart is more like deteriorated candy... people killing by religion... killing by money.. by food.. killing whith smile in theyr faces... killing only for kill... that world lost the pure feelings... is hard to make peace?? no way.. people must to remember what the TOGETHER means... all globe working whith respect... . . .ok.. u have that... i have this.. let´s negotiate??. . sure... this things got prices... the world is commercial... ok.. great... so... let´s make peace and shake our hands... . easy??... or i´m wrong?? . share.. share... what that mean... pluahfff... share knowlegde.. share something that u need and something i need.. u know... . " the devil stole the god´s bag... and run away.. but god hold a bag whith one hand and cover a hole whith another one... the devil don´t know about it... so.. the devil run over the world and every place he drop some ..thing ... " our differences are made by "devil"... only together (TOGETHER) we ´ll find the owner of this bag (ho is him?? i forget.. do u??)... . so... i think we must to stop whith "dull" questions ...i´m not talk about ur qstn... hold on..... and start to make something good.. something productive... we have all the world in our hands... we have the fu.ck.ing and inexplorated WEB... maybe we cant do something BIG whith that... create contact... create business relationships... dogmas relationships... one person screaming... make a lot of noise... imagine all of us... all of us and our friend... and their friends.... and more.. and more.. and more... great... some one heard our voice... more than 6 billions lifes is that little globe... someone will hear about... ... honey... i ´ll stop here... i have a lot of questions to response.. heheh.. i´ll write someting about this on my band.. thanks to give me that idea... i hope u get it.. and other people too.. . 1.000.000.000 sparkisses... . (sparkisses.. hah.. good one... some day... when the world show us the reset button.. i´ll send spark kisses and spark hugs to everyboby... ºi know.. i´m weirdº... )
5 responses

• United States
30 Nov 06
Yep, people are just cruel to each other.

• India
15 Dec 06
But here humans are rated very lightly. The severity is more. Humans not only hurts humans but eats all other items in the above discussion. Am I correct! Still you feel the problem is light.

• Germany
30 Nov 06
Yes...thats how the world goes...but we also cvan make a difference ...can at´least do something to make the world a better place...not something very great...but something is better than nothing...it is better to do what we can at this time of need than just regretting upon the situation...

• Brazil
2 Dec 06
yes.. u right... but... how to do that ? open their minds and drop good ideas inside their heads ?? hehe