Daily Bible Study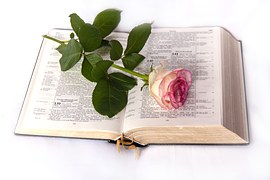 Green Bay, Wisconsin
October 17, 2020 7:30am CST
Day 70 Promise 528 John 12:23 And Jesus answered them, saying, The hour is come, that the Son of man should be glorified. 24 Verily, verily, I say unto you, Except a corn of wheat fall into the ground and die, it abides alone: but if it die, it brings forth much fruit. 25 He who loves his life shall lose it; and he who hates his life in this world shall keep it unto life eternal. 26 If any man serves me, let him follow me; and where I am, there shall also my servant be: if any man serves me, him will my Father honor. Seeds by themselves produce nothing. You need to plant them, water them, and give them light for them to produce a harvest. It is only when you do the seeds die so they can produce a harvest. Jesus told His disciples the time had come for His glorification. He illustrated the death of a grain of wheat to what would happen with His death. He then said a person needed to hate his life more than he loved it. Not that a person actually hated himself, but that people should not give such importance to their lives that nothing else mattered. When they did, they lost everything they found important, especially their life. When they focused their attention on what truly mattered, following and serving Him, then they received eternal life. As Christians, you know Jesus' death brought salvation to the world. When people accepted His death and resurrection as payment for their sin, then eternal life was theirs. Their focus was no longer on what they could do to gain recognition, but on what they could do to bring recognition to Jesus Christ. As you tell others what Jesus did for you, you plant seeds of faith that will grow up into a mighty harvest of souls for the kingdom of God. Jesus' death and resurrection is His promise of eternal life when you accept His salvation. Let's pray: Father, help me focus my life on what You did for me and not on myself. Let me be a witness of what You did for me in bringing me salvation through Your Son, Jesus. In Jesus' name, I pray. Amen. Copyright © 17 October 2020 by Valerie Routhieaux Image courtesy of Pixabay
4 responses

• Ukraine
18 Oct
I belong myself more to atheists, but from time to time i read Bible too

• Green Bay, Wisconsin
18 Oct
It's good you read it occasionally.

• India
18 Oct
Amen !! Wish you a Blessed SUNDAY

• Green Bay, Wisconsin
18 Oct
Thank you. I hope yours is blessed too.


• Green Bay, Wisconsin
17 Oct
That's good you do. I'm sure it helps calm and relax you.

•
17 Oct
Thank you. Bless GOD of Abraham, Isaac and Jacob for sending His anointed Jewish Messiah to bring the Good news which the prophet Isaiah speaks about. Mark 1:15 "He said, 'The time is fulfilled, and the kingdom of God has drawn near. Repent and believe the good news.'"