Random Thoughts for 11.17.20.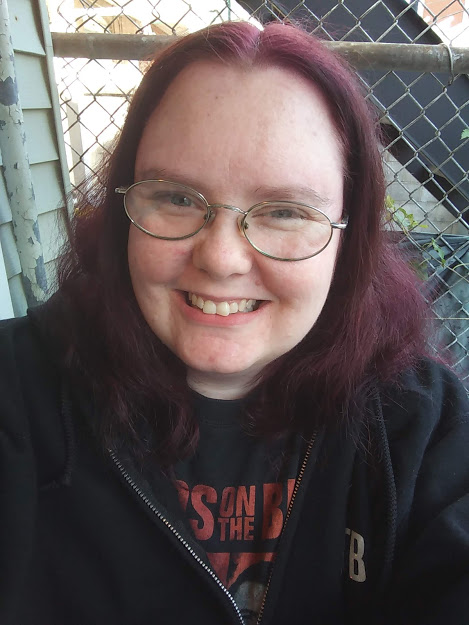 Baltimore, Maryland
November 17, 2020 3:23pm CST
Hey there, everyone. I'm about to get started on my work, but I wanted to post something first, so I'm just going to share a few things on my mind or whatnot. - So as you can see by my attached picture, I did step outside to snap a few pictures of my hair. It's a little pinker than it actually looks (but still a darker shade), but I stayed under the awning because I didn't want the sun in my eyes. Plus we've been cleaning the yard and I didn't want all that in the background. And plus, it's chilly outside lol. If I go on any walks this week, I'll snap another one, but I'm not planning to go anywhere before the weekend as of right now. Anyway, I really like my hair color, and I'm glad I decided to dye all of it instead of just the underneath area. - I've ordered and picked up a few more stocking stuffers. Either this week or next week, I want to start on everyone's main gifts, plus I need to order or pick up my best friend's birthday gift. I'm aiming for 2-3 gifts per week. The ONLY gifts I still want to be shopping for the week of Christmas are stocking stuffers and candy. But if I could finish EVERYTHING by then, that would be great. I really should've started in September instead of October since I buy for multiple people, but I didn't think about it. I figured October was early enough. Oh well. - So my original plan today was to work on my Textbroker and Fiverr orders. However, I think I'm going to focus on my Textbroker orders since I really want to build those funds up before my next cash out, and I'll work on my Fiverr orders sometime this week. I mean, if I do enough on Textbroker today and maybe tomorrow, I can just focus on Fiverr for the rest of the week, I just need to double-check one of my Fiverr deadlines. - My Mom is getting her first cataract surgery tomorrow morning. She'll have cataract surgery for her other eye next month. I'm not as nervous right now because I've heard it's a simple procedure, but we'll see how I'm feeling tomorrow. I've been hyping her up though, about how she's going to see so much better, to keep her from feeling too nervous. But maybe send some prayers, positive vibes or whatnot her way? I think 2020 has kind of sucked for her all around, so I probably should've asked for those earlier. :-/ Alrighty, I need to get started on my work. I'm not timing the rest of the 90-word orders, but I would like to time my other orders. Take care, everyone. Photo Credit: It's my picture. :)
8 responses

•
17 Nov
Wow! It is striking how much you look like my half-sister and me! You, her, and I have the same style glasses! And, I am also a writer! Doppelganger time up in here!

• United States
17 Nov
I'm glad you did random thoughts. Isn't it a wonderful way to write? I have done it for years. Love your hair!!! I haven't purchased that first gift yet unless you count the yarn I bought to make my daughter's gift. I'll get to it though. I'll keep you and your mom in my prayers for a successful surgery and sending healing energies as well. Keep us posted on her. I can't seem to get past the (what I assume) are test jobs on textbroker but then I am not doing them every day as I have bigger clients from freelancer and through my own network. I haven't posted my services on fiverr yet either, but I should. I just started a new freelance job this past weekend and it is going rather well I am happy to say! Keep posting those random thoughts! Stormy

• Baltimore, Maryland
24 Nov
Thank you! And it is; it's a good way to get things off your chest and out of your head lol. Oooh, what are you making her, if it's okay to ask? Thank you so much! It went well. She's having the other eye done next month, and now that she can see clearly out of one eye, I think she's ready for the next one lol. Are there test jobs for joining Textbroker? I joined TB back in 2011, and I only remember having to submit a writing sample with my application. It sounds like you're doing well without TB and/or Fiverr though, and I'm glad! :) Aw thank you!

• United States
25 Nov
@tammys85
I am making her a scoodie which is a hood with a scarf attached and I am putting pockets on either end for her. I'm glad the surgery went well! I am just guessing they are test jobs.

• Baltimore, Maryland
1 Dec
@StormyRainStevens
Aw that sounds sweet!

Thank you so much! She's having the other eye done next week, but she knows what to expect now. I've never seen test jobs on Textbroker. They're from the open order pool or during the application process?




• United States
19 Nov
I'm glad you weren't too worry about the surgery. I'll remind you next year to start in September lol.


• Philippines
18 Nov
Good luck with your work, stay safe and nice hair btw.


• Daytona Beach, Florida
17 Nov
Well, if you can get the money you need, more power to you. So, that's good.