Hamid ( 2018) film.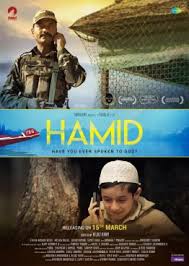 Northampton, England
November 22, 2020 4:50am CST
Star – The Kid My Rating **** Genre – Foreign/Drama Run Time – 108 Minutes. Certificate – 12 Country – India Awards – 2 Wins = = = = = = = = = = Hamid is a beautiful little film from India that's a tiny bit Bollywood, a fair bit of pathos and an elegy to the disputed region of the Kashmir, a touchy suspect in these parts. I'm a big fan of foreign movies and the best by far when they go up against hyped Hollywood dross. Asian movies tend to have an appealing poetry to them. But sometimes they are films that deliberately stir religious and political divide to their largely targeted and illiterate proletariat audience, the case here with director Ajaz Khan's movie . ===Cast=== • Talha Arshad Reshi as Hamid • Vikas Kumar as Abhay • Rasika Dugal as Ishrat • Sumit Kaul as Rehmat • Mir Sarwar as Abbass • Bashir Lone as Rasool Chacha • Veer Rajwant Singh as Rajinde • Qazi Faiz as Beggar • Umar Adil as Police Officer • Gulam Hussain Barji as Shopkeeper • Sajid as Police Constable • Shafia as Noor ===Plot==== Little 7-year-old Hamid (Talha Arshad Reshi) is a good boy and very respectful to his mum and dad who live in rural area of disputed Kashmir. He is whining to his hard working dad (Sumit Kaul) to buy him a mobile phone so he can follow the football. Dad gives in and sets out at night to get a secondhand one from the local shop. The film jumps forward one year and dad never returned from that trip, mother Ishrat (Rasika Dugal) still broken hearted but believes her husband will return one day and not lost in the conflict. Hamid has definitely not given up and will try anything to find dad. Through circumstance in school young Hmaid believes he can phone his almighty God Allah on a phone as he sets out to buy one and get the prophets number. He comes to the conclusion that 786 is Allah's dialing code, then led to believe by a blind beggar that the rest of the number is written in code somewhere. Hamid finds that somewhere and comes up with a valid number, which he rings. The phone number is answered, not Allah but an Indian border force soldier named Sergeant Abhay (Vikas Kumar) , who eventually plays along with it as the boy repeatedly calls back, offering solace to both of them who have lost someone as the conversations grow. Hamid tells him about his father; his dads wise teachings and how their lives are on hold waiting for their fathers return. Abhay tells the boy about his family and worries. Whilst mother grieves, little Hamid tries to learn his father's boat-making craft among various other means to please Allah, in belief that homage will see his father return some day. The soldier joins the search for his father as tensions rise on the border. ===Results=== Hamid is a sweet little foreign film to be enjoyed by all. The best foreign cinema in this gentle drama genre always seem to have a little cute kid at the heart, Talha Arshad Reshi performance adorable in the lead. Why it is that child actor are so good at acting we will never know. I guess they don't need to get all temperamental and behave like diva's all the time. It's a political film that makes blunt points on the Kashmir thing to a likewise in inarticulate audience but doesn't go too far, the tension told through the eyes of a child. The clever idea of the Indian border guard being Allah to the little boy works well and enables potential redemption for all. I'm sure there are many more meanings in this film I did not pick up on and aimed at Kashmiries and a film not centered at educating westerners on that situation. It's well worth a watch and not too subtitles heavy so no excuses there. It looks beautiful and sweetly acted in that Bollywood way. There is only two song and dance numbers but not too cheesy and in context. You will enjoy this film and its gentle message of love and peace man. ===RATINGS=== Imdb.com 7.8/10.0 (935votes) ===Trailer=== https://www.imdb.com/video/imdb/vi2236004889?playlistId=tt7527082&ref_=tt_ov_vi
2 responses

• Zagreb, Croatia (Hrvatska)
24 Nov
Kasmir border is still a very sensitive topic for both Pakistan and India.