Pelosi & McConnell's house's get vandalized!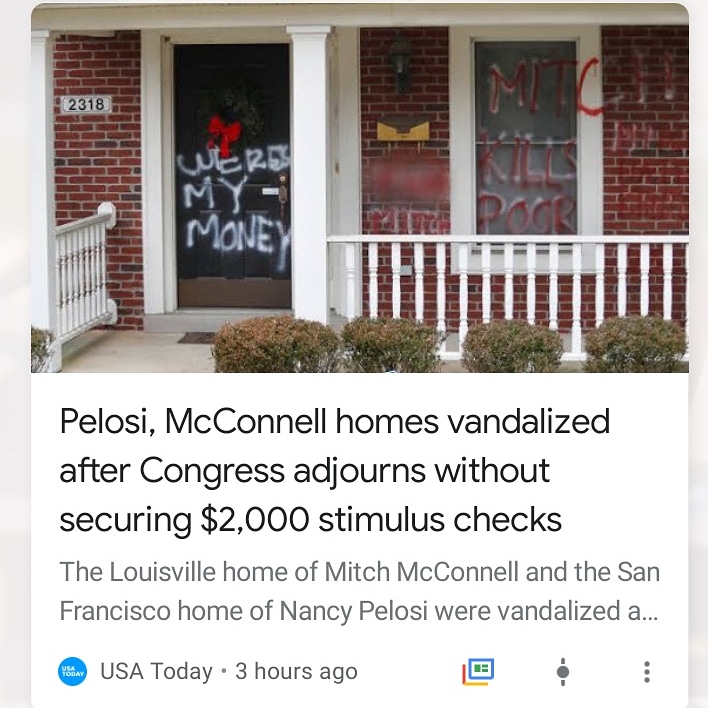 United States
January 2, 2021 5:00pm CST
While I don't condone vandalism or violence, these corporate owned Congresspeople need a REALITY CHECK. U.S. Republican Senate Majority Leader McConnell (@senatemajldr) says the $2k payments would go to the Democrat's RICH friends! Now, McConnell is one of the richest members of Congress but, he started out as one of the poorest. Basic math and common sense woud conclude that an annual income $78,000 a year isn't being RICH! During a TV interview in the start of the pandemic, Democratic Speaker of the House, Nancy Pelosi (@SpeakerPelisi) showed off a freezer full of ice cream. Most members of Congress are millionaires and probably wouldn't know how much basic items like a gallon of milk, a loaf of white bread or a dozen eggs cost. WE NEED SERIOUS CAMPAIGN FINANCE REFORM IN THE U.S.A. Members of Congress should be looking out for the American people, not their rich donors!
6 responses

• Daytona Beach, Florida
2 Jan 21
Money changes people. Many who get in a position of power, don't remember what it's like to struggle. Sure they work hard, but do not really know what the people need. At the same time, we don't have the same system of checks and balanceses we used to. I saw the headline about the spray paint. I don't think vandlisim is going to send a message.

• United States
2 Jan 21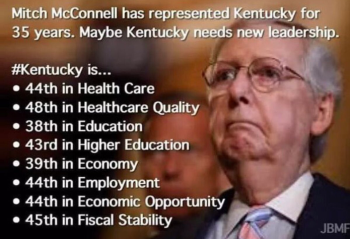 @kaylachan
~Unfortunately, new reports state that McConnell's office hasn't been answering their phones and they don't leave options for messages. McConnell's home state of Kentucky has 10 of the the U.S.'s poorest counties, yet McConnell doesn't care! McConnell is worth billions but Kentucky citizens are among the worse off in the country

• Daytona Beach, Florida
2 Jan 21
@flpoolbum
I wish I could say I am surprised, but I'm not. After the kind of year 2020 was, it doesn't surprise me the people would strike out in this way. Personally, if he's so bad, it's as simple as not re-electing him.

• United States
3 Jan 21
@kaylachan
~Unfortuately, voting McConnell and other Republicans out of office isn't that easy. The Republican controlled State Houses have redrawn district lines to benefit the Republicans. Republicans also purge voting records an greatly reduced the number voting locations in non white districts. Citizen's United, allows corporations to spend unlimited amounts of money in the races. Facts are routinely distorted by ESTABLISHMENT CONGRESS PEOPLE from both parties into short and easy to remember sound bites. We need SERIOUS CAMPAIGN FINANCE REFORM, more logical redistricting, and to overturn "Citizen's United"!

• United States
2 Jan 21
LOL!!!!!!

I don't believe in vandalism and I don't believe in polititians screwing the public either! So oh well pay backs!!!!

• United States
2 Jan 21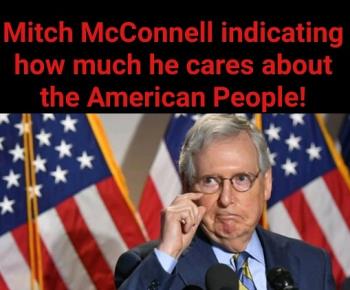 @dfollin
~Kentucky is 38 worse of 50 for Education. Notice that the vandal misspelled "where's" on their graffiti.

• United States
2 Jan 21
@flpoolbum
Yeah! I was just thinking that there wasn't enough space!

• Lake Charles, Louisiana
3 Jan 21
I agree with you that vandalizing a politicians home is not the answer. What I was told by Martin Brodel who used to have videos on You Tube about politics is to be polite when talking to a politician instead of threatening them.

• United States
3 Jan 21
@Deepizzaguy
~It is good to be polite but unfortunately, I think courtesy and kindness is extremely rare in Washington D.C.! I'll bet some of these politicans consider courteous a weakness that can be exploited!

• Lake Charles, Louisiana
3 Jan 21
@flpoolbum
That is true since the politicians do not care for us the voters anymore.

• Cambridge, England
2 Jan 21
This kind of vandalism is deplorable. In any case, I thought that it was only Mitch McConnell who vetoed the decision. Pelosi, as the Speaker, had nothing to do with it and appeared to be in favour of the $2000 payout (as were most Democrats). Why would anyone but a moron target her?

• United States
2 Jan 21
@owlwings
~Over the last two years, McConnell has refused to even allow any of the over 300 House Bills, including the recent $2k Stimulus bill, to the floor of the Senate for a vote. The Democrat's had many opportunities throughout the pass couple of years to put more pressure on McConnell to bring House passed bills to the floor of the Senate and to pressure Republicans for in the House of Representatives for better bills, but never do. Unfortunately, the establishment Democrats in Congress are as beholden to their corporate overlords (donors) as the Republicans. As a result, the American people are the ones who are always getting screwed. McConnell called the $2k stimulus "Socialism for the Rich". There is a YouTube video out, where on the floor of the Senate, Senator Bernie Sanders pointed out that Amazon, Delta Airlines and other corporations get BILLIONS in tax cuts even though they paid $0 in taxes on 2018 and said, specifically to McConnell, that "THAT is SOCIALISM FOR THE RICH, not $2k for working class families". There are many YOU TUBE posts and podcasts that have continually pointed out the shortcomings of the ESTABLISHMENT Democratics and Republicans. A couple of my favorites include Farron Cousins in "Ring of Fire" and "Farron Balanced", "Beau of the 5th Column" and "Secular Talk" with Kyle Kulinski.

• Wapello, Iowa
4 Jan 21
These corporate-owned Congresspeople are our biggest problem.