Munni the cat and me.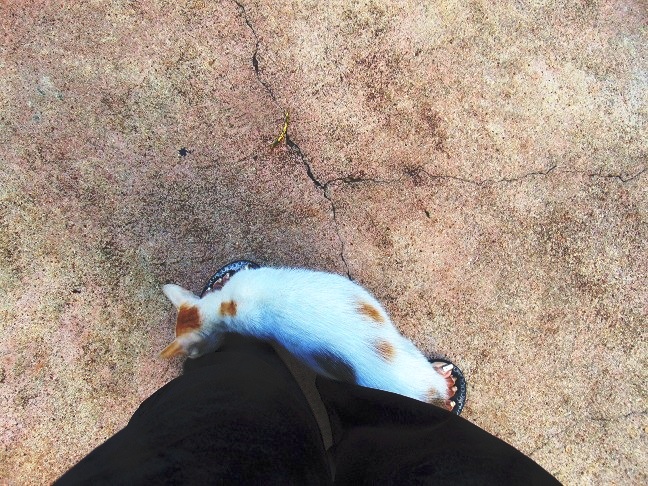 India
February 23, 2021 5:43pm CST
Munni as some of you know joins me any time I take strolls in the garden - any number of times. She will run to me and join me, circling round my legs but sadly she never lets me lift her or cuddle her. All cats in our household do not like being cuddled or touched and that makes me sad. What's with your cats?
6 responses

• Bangalore, India
24 Feb
Good morning. I am just back from a 20 minutes stroll in my terrace. No watering needed today as it rained a bit in night. Well, Munni and other cats in your household have their own way to show their affection and attachment.


• India
24 Feb
Munni is so loveable as whenever she spots me no matter where she is I see her running towards me. Yes cats have their own way to show their affection. It rained heavily here as well. No watering (lol)

• Bangalore, India
24 Feb
@allknowing
Today I see my radish leaves getting infested though I sprayed some neem oil recently. Seems tomorrow I need to do one more round of spraying. Some leaves of hibiscus also needs it. So again some time in garden tomorrow.


• India
24 Feb
Of the lot we have Peppie who lets me lift him and hold him and yes just for three minutes


• United States
24 Feb
@allknowing


Three minutes is all you get, too!


• Denver, Colorado
25 Feb
I have no animals here not allowed they are so mean


• India
24 Feb
If only we could communicate with them


• Marion, Ohio
24 Feb
I have a couple that want cuddled but on their terms. The rest like to be petted but not carried around.

• India
24 Feb
This is the first time for me that this particular brood all belonging to one mother cat behave this way.

• Daytona Beach, Florida
24 Feb
My cats love to cuddle and be petted. The trick is to learn the body language. My cat, Mama, didn't like being held. However, now she does. It takes persistence and patients. You need to let the cats do these things on their own terms. Start picking up the cat a little bit everydayand just pet them. If they want down, let them. Over time they'll come to like it.

• India
24 Feb
We have had cats for several years but this particular brood is different. Lifting would mean subjecting it to their open claws (lol)