Stephen Colbert goes HyperCreative with his intros to the "Late Show"-segment Meanwhile (or 'Quarantine-while')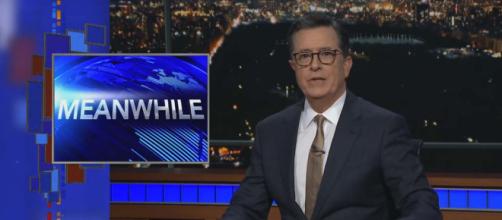 Oklahoma City, Oklahoma
April 8, 2021 2:14pm CST
Before his occasional segment where he recalls 'the daily news that almost-no one is covering,' he introduces it with a new metaphor describing the contrast between his monologue-writing process (with the big international- and national news) and the writing-process of this segment. (I tried to find a collection of 'meanwhile intros,' but the closest thing I found was this collection of 'meanwhiles' (and 'quarantine-whiles')) https://youtube.com/playlist?list=PLUok5GRwyZ3QEKBJJOPeXDG4zXwcNKbtU How long do you think it'll be before Stephen has to reuse a joke-crafting metaphor?
1 response

• Lichfield, England
9 Apr

• Oklahoma City, Oklahoma
9 Apr
You should hear ... sometimes his intro seems to stretch longer than the rest of the segment!