Cheesy shrimp pizza adjudged my favorite.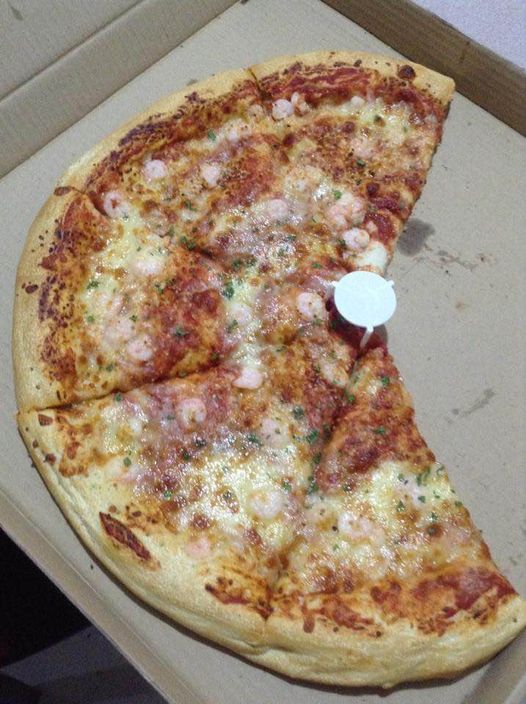 Philippines
May 4, 2021 4:05pm CST
The waiting at the bank was uncomfortable. Too many people around on a hot noon day. The traffic on the highway added to my discomfort. Was just glad when my daughter finally came out. Drove as fast as I can to the grocery three kilometers away. I was very hungry. Three quarters of an hour more before my daughter finished purchasing the supplies. She did put the boxes in the car trunk but went back to the grocery store. She came out with a large pizza box. Ha ha. A pizza parlor has come up with a new pizza -a cheesy shrimp pizza. My daughter thought I'd love it, so she ordered one. Being the pizza monster that I am ever since I can remember, the cheesy shrimp pizza, I concluded, has just become my favorite pizza. Crunchy tiny shrimp with mozzarella cheese melting in the mouth. Yum! My hunger was appeased in the most sumptuous way. Made my day!
8 responses

• United States
4 May
This looks very good. I just might like it too. I had never had shrimp on pizza. Usually in my home we like anchovy pizza home made. I am glad you enjoy this one. Your daughter is a lovely one.

• Philippines
5 May
Enjoyed every bite. Super yummy. The shrimp is just about the right size for crunchy bites. Anchovies are flavorful but rarely do our pizza parlors offer the tiny smoked fish. Parlors most often make beefy burger pizzas for meat lovers or bell pepper and pineapple pizzas for vegetarians.

•
4 May
Your daughter was very thoughtful to realize your hunger and get you pizza!

• Philippines
4 May
Yup, she splurges on food whenever it is payday. She knows her mother's weakness.


• East Tawas, Michigan
4 May
That was very thoughtful of your daughter, shimp/cheese pizza sounds amazing!

• Philippines
5 May
Yes, the cheesy shrimp was the perfect pizza for me. Am not into much meat any longer. But believe me, I think my daughter was also very hungry. She gulped a slice before I can even take a picture of the whole pizza.



• East Tawas, Michigan
5 May

• Philippines
5 May
@kobesbuddy
Ham and mushroom pizza is also very, very good. It was my original favorite.




• Philippines
5 May
Will try this one out. What pizza restaurant is this?


• Philippines
6h
@allen0187
Avail the promos. I do believe they are using all the mozzarella before expiration date.

• Lake Charles, Louisiana
4 May
Nice ending to a stressful day with a nice pizza as a meal.

• Philippines
5 May
It was indeed a stressful day. Couldn't complain though because around me in the bank parking area were vendors with little children, eating noodles in cups for their lunch. The sight of poverty in a pandemic time is really heart wrenching to watch. Thank you. The pizza was so filling and delicious I feel God has always given more blessings and therefore I must also be of service to others.

• Lake Charles, Louisiana
5 May

• Zagreb, Croatia (Hrvatska)
11h
i am glad it made you day after that waiting in the bank


• Philippines
6h
It did. Thank you. On hindsight, I feel guilty about posting food stuff because many are dying of the CoViD-19 disease and billions don't even know where to get their next meal. Very grateful for the blessings of food.


• Philippines
22h
Yes. It's very satisfying. Thank you. I am really very fat na.

• Daytona Beach, Florida
4 May