A new Breakfast/Non-Full Time Dinner Cereal Option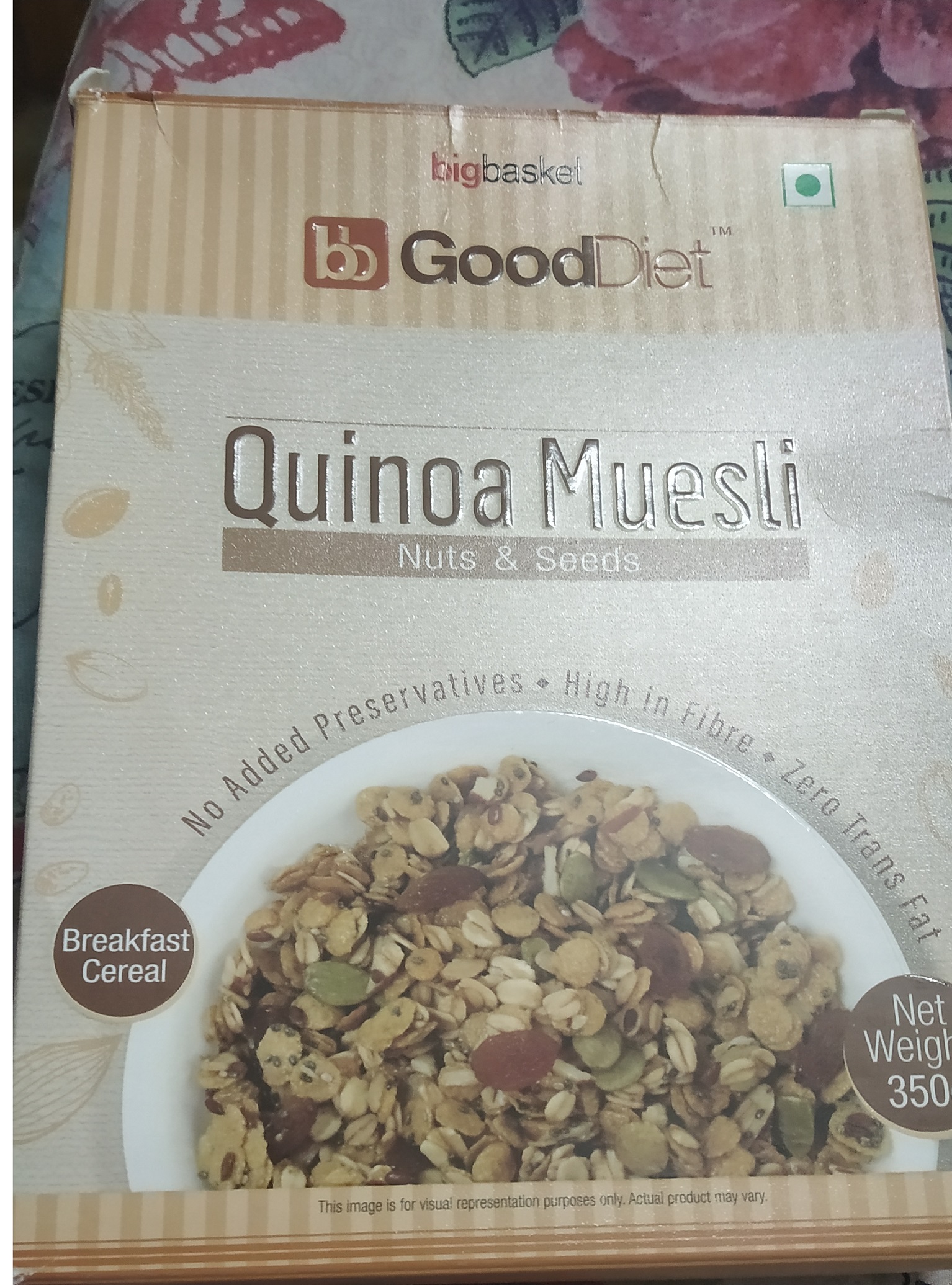 India
June 11, 2021 9:55am CST
So I ordered and got this Breakfast or occasional Non-Full Time Dinner Cereal option. This is Quinoa Muesli. A bit tough to pronounce ! (

). This is from BigBasket label: Good Life. This one also has Nuts like Almonds, as well as dates, pumpkin seeds. The taste is also quite nice. So it can be something that I can buy again. Have a great time today! Image : taken by own mobile camera and cropped to a smaller size.
7 responses

• India
11 Jun
Never tried these but I hope they are good for us

• India
12 Jun

• India
13 Jun


• Zagreb, Croatia (Hrvatska)
14 Jun
have a good breakfast again


• India
15 Jun
@moonandstars
Well sone different breakfast plans today. What are your plans today?

• India
17 Jun

• India
23 Jun
@moonandstars
Once upon a time, I used to had a frequent breakfast of Cornflakes, milk and bananas.


• India
15 Jun
@DianneN
Yes quite healthy and I had it along with milk yesterday night as well.

• India
16 Jun
@DianneN
Yes I do have it from time to time. I would order another one perhaps early next month.


• Bangalore, India
16 Jun
WOW! That sounds good and maybe I should add that to my buy list. We do have cereals for breakfast occasionally. I often take muesli with cold milk. This one has quinoa and that would be better and more filling. It is challenging otherwise to include quinoa in our traditional cooking.

• India
16 Jun
@arunima25
There are real pumpkin seeds as well in it and it claims about some other seeds as well which I could not detect. The saltiness of pumpkin seeds in milk is not ideal as per Ayurvedic principles but I think we can have some leeway sometimes.

• India
19 Jun
@arunima25
Yes perhaps that is something that should not be damaging

• Kenya
11 Jun
Nicer pic. Cereals are nutrient dense good for health

• India
12 Jun


• India
11 Jun
@Shiva49
So do you like Oatmeal in sweet form, or salty one?

• India
12 Jun
@Shiva49
Yes in my family, Oats are more preferred in salty preparation rather than sweet.

• Green Bay, Wisconsin
11 Jun
I'm glad you're enjoying the cereal. I've never had it.

• India
12 Jun
@just4him
You would have other brands available. In case of Oats, Quaker Oats are there in a lot of countries.