Daily Bible Study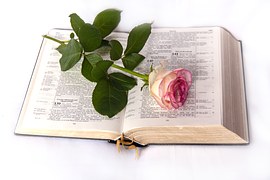 Green Bay, Wisconsin
June 21, 2021 2:49am CST
Day 8 Genesis 15:1 After these things the word of the LORD came unto Abram in a vision, saying, "Fear not, Abram: I am thy shield, and thy exceeding great reward." 2 And Abram said, "Lord GOD, what wilt thou give me, seeing I go childless, and the steward of my house is this Eliezer of Damascus?" 3 And Abram said, "Behold, to me thou hast given no seed: and, lo, one born in my house is mine heir." 4 And, behold, the word of the LORD came unto him, saying, "This shall not be thine heir; but he that shall come forth out of thine own bowels shall be thine heir." 5 And he brought him forth abroad, and said, "Look now toward heaven, and tell the stars, if thou be able to number them:" and he said unto him, "So shall thy seed be." 6 And he believed in the LORD; and he counted it to him for righteousness. 7 And he said unto him, "I am the LORD who brought thee out of Ur of the Chaldees, to give thee this land to inherit it." 8 And he said, "Lord GOD, whereby shall I know that I shall inherit it?" 9 And he said unto him, "Take me a heifer of three years old, and a she goat of three years old, and a ram of three years old, and a turtledove, and a young pigeon." 10 And he took unto him all these, and divided them in the midst, and laid each piece one against another: but the birds divided he not. 11 And when the fowls came down upon the carcasses, Abram drove them away. 12 And when the sun was going down, a deep sleep fell upon Abram; and, lo, a horror of great darkness fell upon him. 13 And he said unto Abram, "Know of a surety that thy seed shall be a stranger in a land that is not theirs, and shall serve them; and they shall afflict them four hundred years; 14 And also that nation, whom they shall serve, will I judge: and afterward shall they come out with great substance. 15 And thou shalt go to thy fathers in peace; thou shalt be buried in a good old age. 16 But in the fourth generation they shall come hither again: for the iniquity of the Amorites is not yet full." 17 And it came to pass, that, when the sun went down, and it was dark, behold a smoking furnace, and a burning lamp that passed between those pieces. 18 In the same day the LORD made a covenant with Abram, saying, "Unto thy seed have I given this land, from the river of Egypt unto the great river, the river Euphrates: 19 The Kenites, and the Kenizzites, and the Kadmonites, 20 And the Hittites, and the Perizzites, and the Rephaims, 21 And the Amorites, and the Canaanites, and the Girgashites, and the Jebusites. As discussed, prayer is a combination of several elements, communication between God and you, need, time, confession, and sacrifice. Abram met with God with a need in his heart. He told God his concern regarding an heir. God heard his heart's cry and told Abram he would provide a seed from his own loins, who would produce seeds as numerous as the stars in the sky. God also told him they would go through a time of slavery, a time when God would bring His people out of slavery and bring them to the land He promised Abram, the land of Canaan. Then God told Abram the extent of the land He gave him and sealed His promise with an unbreakable covenant. As Christians, you have needs. God knows your needs and your heart's desire. When you pray, you need to listen. Prayer is not a one-way conversation. Your prayer doesn't end when you present your requests before God. Your prayer ends when God answers you. Too often people come away from prayer with the feeling of unfulfilled answers. It's unfulfilled because you made prayer one-sided. You didn't wait for God to talk to you and give you His heart in the matter. Abram talked to God, and God answered him. Abram presented his need to God, and God told him He already granted his request. Did God tell Abram when He would fulfill his request? No. God told him He fulfilled his request and Abram believed God and it was counted to him for righteousness. You don't always know when God will act on your need, but you need to believe God already took care of it. In the Sermon on the Mount, Jesus told the people they shouldn't worry about what God already did for them. Matthew 6:25 Therefore I say unto you, Take no thought for your life, what ye shall eat, or what ye shall drink; nor yet for your body, what ye shall put on. Is not the life more than meat, and the body than raiment? 26 Behold the fowls of the air: for they sow not, neither do they reap, nor gather into barns; yet your heavenly Father feeds them. Are ye not much better than they? 27 Which of you by taking thought can add one cubit unto his stature? 28 And why take ye thought for raiment? Consider the lilies of the field, how they grow; they toil not, neither do they spin: 29 And yet I say unto you, That even Solomon in all his glory was not arrayed like one of these. 30 Wherefore, if God so clothe the grass of the field, which today is, and tomorrow is cast into the oven, shall he not much more clothe you, O ye of little faith? 31 Therefore take no thought, saying, What shall we eat? or, What shall we drink? or, Wherewithal shall we be clothed? 32 (For after all these things do the Gentiles seek:) for your heavenly Father knows that ye have need of all these things. 33 But seek ye first the kingdom of God, and his righteousness; and all these things shall be added unto you. Do you stop making requests expecting God will supply everything you need? No. We are to make our requests known to God. He wants to hear your requests and know your heart's desires. Philippians 4:6 Be careful for nothing; but in everything by prayer and supplication with thanksgiving let your requests be made known unto God. 7 And the peace of God, which passes all understanding, shall keep your hearts and minds through Christ Jesus. Abram talked to God. He told God everything in his heart, the need for a son. You need to talk to God and let Him know what's in your heart. When you do, listen for God's answer, then you will find peace in your prayer life. Treat God as you do a friend. You don't spend time with your friend and do all the talking and then walk away without a meaningful conversation between you. You need to do the same when you meet with God. He's your friend, too. Let's pray: Father, help me listen and wait for Your answer when I come to You with my needs. In Jesus' name, I pray. Amen. Copyright © 21 June 2021 by Valerie Routhieaux Image courtesy of Pixabay.
6 responses

• Roseburg, Oregon
21 Jun
A prayer is what you should do every day.

• Green Bay, Wisconsin
21 Jun
Yes, it is. Have a blessed day.

• Philippines
21 Jun
Studying is too far than likening those things we study to our lives. God's words are spiritually uplifting.

• Green Bay, Wisconsin
21 Jun
Yes, they are. Have a good day.

• Philippines
22 Jun

• Green Bay, Wisconsin
22 Jun


• India
21 Jun
So early today...yes prayer is the communication..

• Green Bay, Wisconsin
21 Jun
Yes, it is early. I didn't get much sleep. Yes, prayer is communication. Have a good day.

• United States
21 Jun
He is my friend--the bestest of friends. Thanks for sharing.

• Green Bay, Wisconsin
22 Jun
You're welcome. I'm glad He's your best friend. Have a blessed day.

• United States
21 Jun
Amen!! Have a blessed day!!


• Green Bay, Wisconsin
21 Jun
You also have a blessed day.

• United States
21 Jun
Amen! Prayers anywhere are great, but I feel like when I do pray outside in quieter places I feel more connected to God and answers. I also think animals can help in understanding stuff. Like, I was really worried about my husband's health after heart surgery. I was praying to God and watching a cardinal. Then its mate came over and for a while I got to watch them both. It just gave me a confidence that everything was going to be okay.