Verinag Spring - source of Jhelum River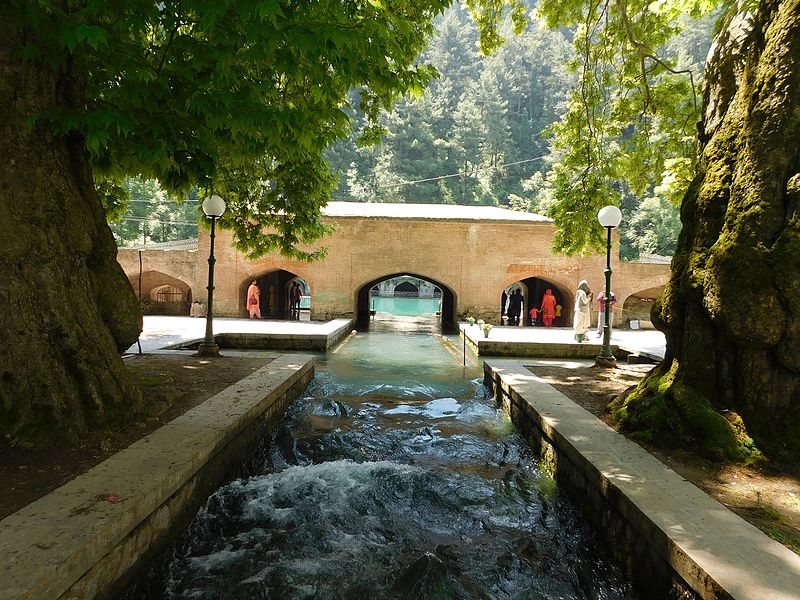 India
July 22, 2021 4:23am CST
Jhelum river that has a length of around 450 miles flows through Kashmir into a part of Pakistan. We were fortunate to visit the source of this river - Verinag Spring in Anantnag, Sirnagar - ;literally the mouth of the river. We could see a school of trout fish swimming in there. The garden around was a beautiful sight. We spent a few hours there. That is the advantage of joing package tours as they know how to pack sight seeing in the limited time that one has Do you prefer package or personal tours. .
8 responses

• Bangalore, India
22 Jul 21
I would prefer a package tour. But then most of the tours I have been to were personal ones, all planned and executed by my husband. And they were fabulous.

• India
22 Jul 21
Unless we compare what that was with conducted tours it would be difficult to say whether that was better rthan if you opted for a package tour

• India
22 Jul 21
@arunima25
I have been on several foreign tours and I do not think that would have been possible if we opted your husband's way - 7 European countries, USA, Canada, Nepal, New Zealand, Australia Lots of Indian States as well .,

• Bangalore, India
22 Jul 21
@allknowing
I have been on packaged tours too but most were within India and before my marriage. My husband does not like to be rushed on a vacation. He chooses to visit one place at luxury. I know it is not economical but then it is his money and he loves to have the vacation his way. Well, no tour package had a day of cycling around the Netherlands or just going for seeing some tourist spot at your preferred time and relaxing and enjoying in Hotel rest time. He wants vacation to be like a vacation. He is a premium member of the Mariot group of Hotels. And we get really good accommodations with that. We have been to Phuket few times for 10 days. We just love that independent cottage that we get that is double the size od our home and we have our own swimming pool. I often suggest him to go economical and cover more in less, But he prefers it this way. He enjoys exploring routes and other stuff. And we enjoy driving once we are out of India.


•
22 Jul 21
I prefer package tours. Its very convenient than personal tours. Nice picture. Enjoy your day.

• India
22 Jul 21
We have always opted for package tours. They take care of everything - from obtaining visas, hotel bookings and realistic sight seeing

•
22 Jul 21

• Singapore
22 Jul 21
Is this picture the river? It looked very beautiful

• India
22 Jul 21
That is the source of the river - Verinag Spring

• Singapore
22 Jul 21
@allknowing
Oh I see. Thank you so much for the information


• India
22 Jul 21
There is always someone accompanying the group and that helps in package tours.

• United States
22 Jul 21
@allknowing
We've hired small tours in certain places. My son's in-laws go on private tours.

• Surat, India
22 Jul 21
Beautiful picture. I prefer personal ones. I can't run as they say during vacations too



• India
22 Jul 21
You have a wrong idea about running. I have been on several and may be here and there we had to rush but in general everything is well organised.

• Surat, India
22 Jul 21
@allknowing
ok may be. I need to take my own time while traveling. I can't hustle as per their schedule



• India
22 Jul 21
Package tours are better and less expensive than personal ones, isn't it?

• India
22 Jul 21
We have never gone on personal tours but I do know we get to stay at 5 star hotels while on package tours which certainly would be expensive if we did it on our own. They take care of all the nitty gritty. Their representative travels with us and should we get into difficult situations whatever they are we know we will get help.


• India
24 Jul 21
If your travel adventures are few I suppose that would be a better choice I have done many tours.


• India
22 Jul 21
I remember we went on one, on our own and did not like it at all.