How Do You Fell When You Fly On A Plane?

Italy
November 30, 2006 5:50pm CST
I did only once when I travelled to Paris! When I was on board It was for me a new sensation and I liked it very much because I always dreamt to fly by plane. When the plan started to fly I felt a bit strange with stomach but I was ok! :) So what about you? Tell me how do you fell?
7 responses



• United States
1 Dec 06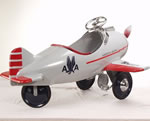 I feel my stomach was tickled and it's a mixed feeling with excitment as well:) I was on a plane lots either international or domestic. When it's a big plane it doesn't really shake or so but if it is a small one you hear more noise and shakes more than big one ???; I have to be on a plane for over half day to go to Tokyo from New York when I go back to my home country and to be stuck in that small space isn't that fan...lol



• Canada
8 Dec 06
I enjoy flying. I fly often. The key is to bring something to do to keep your mind at ease. I bring my lap-top and watch movies.

• Italy
11 Dec 06
i don't have any problems if i have to fly ! My mother worked as hostess so i have travelled with it many times ! It is also proven that travelling with cars or other vehicles is much more dangerous than flying ! So next time you are flying do not worry too much ! You will survive :P !