Sweet pullao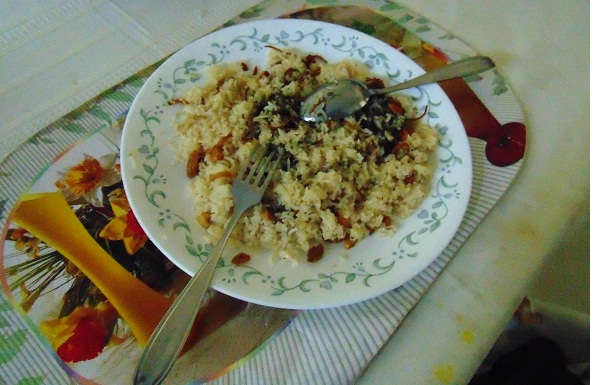 India
September 7, 2021 11:27pm CST
Now that I have started eating rice. We had sweet pullao yesterday. I used basmati rice, a mixture of oil and ghee, cashew nuts, raisins, sliced fried onions, cloves, cinnamon and cardamom for flavour and boiled water to which sugar and salt is added. In the pressure cooker it takes just 3 minutes after the first whistle The flame is lowered. Mint chutney goes well with it.
9 responses

• Indonesia
8 Sep
it looks delicious, from the picture it looks like fried rice in my area

• India
8 Sep
Fried rice is also made here but it is not sweet.

• Roseburg, Oregon
8 Sep
The sweet pullao looks really good.

• India
8 Sep
That basmati rice that makes it taste so good

• India
8 Sep
Easys to make. Do you get basmati rice there?

• United Kingdom
8 Sep

• India
8 Sep
@Fleura
I am sure you know how to do it If you are using the pressure cooking then the water and rice ratio is 3:2



• Germany
8 Sep
It looks good. Enjoy



• Germany
8 Sep
@allknowing
I also make fried rice mixing it with different kinds of vegetables


• India
8 Sep


• Wheat Ridge, Colorado
8 Sep
You food always looks so tasty to me..

• Wheat Ridge, Colorado
9 Sep


• India
15 Sep
Compared to fried rice there we do not add sugar but sweet pullao has sugar and also cashew nuts and raisins