NKOTB at Merriweather on 8.04.21.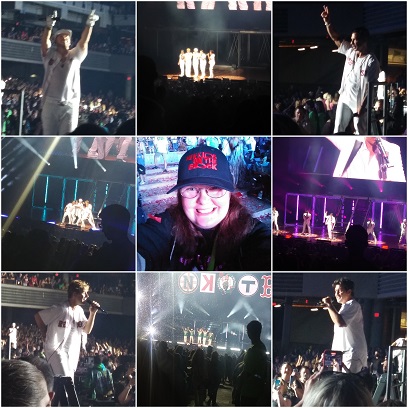 Baltimore, Maryland
October 14, 2021 12:39am CST
I'm listening to New Kids On The Block (NKOTB) as I work on some writing orders and catch up to my MyLot posts, and I decided now would be a good time to talk about when I saw them in concert at Merriweather (in my hometown) back on August 4th, 2021. Warning: This is a long post, so you have time to hit the back button if you don't want to read it. I don't want to shorten it, plain and simple lol. I attended the concert with my sister-in-law, as she does like NKOTB and has never seen them before, and I'll never pass up the chance to see my boys. :) We left earlier than I thought we would, but my sister-in-law didn't realize the venue was only about a half-hour away lol. Sooo, we went to the mall about 5-10 minutes from the venue to eat and pass time. Eventually, we headed to the venue to find parking and get in line. Once we got in, we did the usual --- went to the bathroom, bought water and hit up the merchandise stand. I bought the hat they were selling during the Mixtape Tour in 2019 (which I did attend). Illtown Sluggaz (DJs) opened up, basically to play some music and get the crowd ready for the show. We were supposed to see them at NKOTB's show in Hershey back in 2019, but the rain delayed the show, so they had to skip the DJs. It was fun because they played a lot of tunes I know. :) Next up was Salt-n-Pepa. I saw them during NKOTB's tour back in 2019 and I really enjoyed their set (both times). I swear, the wait for NKOTB felt like FOREVER, but eventually, my boys hit the stage and I was just SO, SO happy. It was so surreal to see them when I didn't expect to see them at all this year. There was a lot of excitement during the opening song ("We Were Here"), but then I felt a little emotional during the second song ("Single") because it hit me that I was at their show. They did a lot of my favorites songs, some I've heard at previous shows and others I've never heard live until now. Oh, and confetti blew out from the front and back, so I was literally under the confetti as they sang. Back in 2017, it blew up to my section and some fell from above, but this was like... a lot of confetti lol. BUT WAIT, there's more.... So, the guys are known for going into the crowd during a few songs. They were careful about it this year because they couldn't risk getting sick before their hometown show two days later. They were on platforms in front of various sections rather than in the actual crowd of people, if that makes sense. Everyone also had to stay in their seats, which was fine by me, but I'll get into that in a few. I saw similar platforms at the Hershey show in 2019 and nothing came of it, so I figured the two platforms near our section were for something else... until I heard someone on the venue staff tell a few fans that the guys would be on the platforms. OH. MY. GOD. Of course, the first person I texted was my Momma (this was 11 days before she had passed), and she was like "Take pictures" lol. But of course! Oh, and this is why I was fine with fans having to stay in their seats (we could stand, just not wander). I had second row of my section, and not to be rude, but I didn't want people hopping in front of me when I paid for those seats. I made a joke to my sister-in-law that I hoped we'd get Jordan or Donnie, but honestly, I would've been happy with any of them. But when they hit the crowd, guess who was at the platform closest to us? DONNIE FREAKIN' WAHLBERG, and you all KNOW how much I adore him. Danny Wood was on the other platform, and for the next song, they switched with Joey McIntyre and Jonathan Knight (of course, Jordan Knight was on the other side of the venue lol). So I literally had 4/5 of the guys within feet of me. It wasn't close enough to score a high-five (Donnie legit wore gloves for that reason lol), but it was close enough to see their faces and get pictures. :) They eventually made it back to the stage, and there was more singing, dancing and confetti. :) I was EXHAUSTED by the time the show was over. I legit sang and danced to their songs for almost two hours straight (and this is why I bought water). But I never expected to see them this year, let alone dance under the confetti, hear a good chunk of the songs I did and have most of the band just several feet away for a little while. Some of you know how stressful the summer was with Momma's health declining, and it was to a point where I was becoming obsessed with her health, so this was the mental break I very much needed. It was one of the best nights of my life and I'll never forget it for as long as I live, and I'm so glad I could share my stories with my Momma that week. I know this was long, but oh well, I had a story to tell, and I *did* warn you all at the beginning of the post lol. Photo Credit: All of these pictures are mine, I just made them into a collage.
5 responses

• United States
14 Oct
So glad you got to go, and could tell your mom about it. Im sure she was very happy you got the mental break and could see them too.



• Montrose, Scotland
14 Oct
4 of the 5 guys like just feet away Any sort of adrenaline rush, or otherwise, Lol Glad you had a great time