Why it's Important that 'American Government IS NOT Democracy!'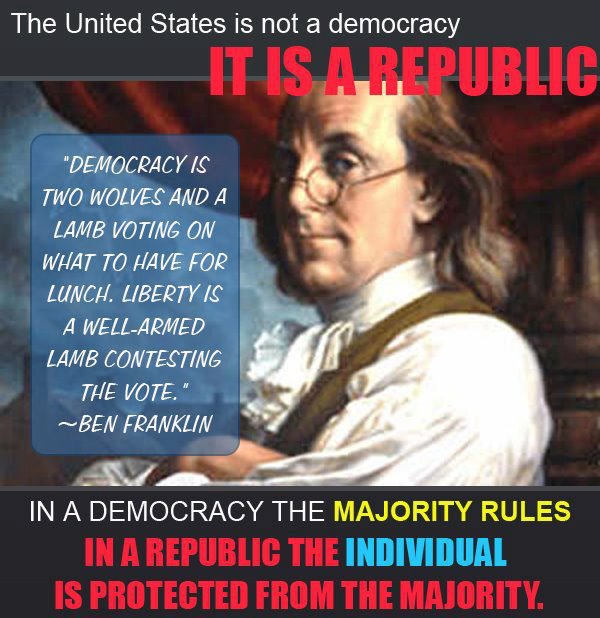 Oklahoma City, Oklahoma
January 6, 2022 11:58am CST
The picture sums it up (tho I take a slightly-different interpretation than many do ... and maybe you do too; so--as Chris Cuomo might say--Let's Get After It!) The picture makes a couple claims that feel a little off-target, so let's focus on the Ben Franklin quote; "Democracy is two wolves and a lamb voting on what to have for lunch. Liberty is a well-armed lamb contesting the vote." ('Well-armed' might be wrong as well; today's better metaphor might be a 'fully-equipped' lamb---with equipment capable of satisfying the wolves' hunger more-peacefully.) How do you interpret Franklin's quote?
2 responses

• Oklahoma City, Oklahoma
10 Jan

• Oklahoma City, Oklahoma
11 Jan
@tallawah
It's like quotes from Lord Jesus Christ; maybe the ideas we put His Name on were mostly the ideas that He wants us to spread, but He probably never spoke a word of English (except for the babytalk that happened to translate to English---Mama, Dada, yummy ...)


•
8 Jan
"In a democracy, the majority rules. In a republic, the individual is protected from the majority." Was that really a quote fromf B.Franklin? I really must be bad at googling the internet for I have not found it. My two cents worth: a. I see no contradiction in the two statements. Meaning, both clauses can (and I think they do) coexist at the same time. b. The extra emphasis on the second statement, if to be taken to be superior to the former, as the poster suggests, is a very individualistic spin. (Yes, I actually said "spin".) It even has this anarchistic after taste in the mouth. What does everyone else think?

• Oklahoma City, Oklahoma
10 Jan
I stated the Franklin-quote. The quote you stated is one that was added. Franklin's quote didn't mention Republicanism, but Liberty.