Mum Has A New Cat Called Rosie!

Carlisle, England
January 13, 2022 5:20am CST
Mum has had a tough time of it the last 6 years or so, what with my Dad and 3 cats dying on her. However, she does have a kind heart, so when she saw a rather scrawny (but beautiful) grey cat hiding in the bushes she had to feed her...but not all the time, just in case she belonged to someone. Eventually, this cat became her new best friend but Mum was still worried she might belong to someone else and could be lost, maybe? Anyway, I put her details online on a specialist 'Lost and Found' website but no-one came forward for her. Asking around the area bore no fruit either. The next thing she did was get her checked over by a vet but he was insistent this cat 'belonged to someone else' so wouldn't microchip her!! He did say that 'she would have got pregnant by now as she's between 12 to 18 months old' meaning that she's definitely had the 'op.' Whatever he told Mum, though, the cat wanted to be with her more and more and would stay in the house when the weather was bad. Rosie had chosen her and that was that! Fast forward a few days and Rosie has (finally) been microchipped at another local vets. Now she can come and go through the cat-flap as she pleases as it reads her number! She likes going out through the cat-flap but hasn't mastered the art of coming back in again. Mum says she 'headbutts' it but not long enough to activate the mechanism! As for her name, Rosie, we decided to call her that after a MacMillan Nurse ensured Dad received the best end-of-life care in a Hospice rather than a Care Home. She is an amazing woman so it seems apt Mum's equally amazing cat is named after her. Do you have any pets that are named after special people in your life?
7 responses


• Carlisle, England
8 Feb
Thank you. I think so too.

• Atlanta, Georgia
8 Feb
@Janey1966
I-hope your mom and Rosie have fun together.

• United States
14 Jan 22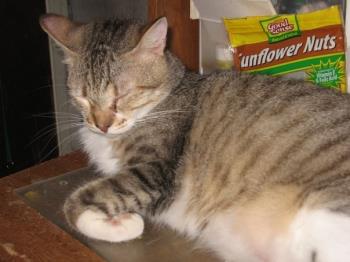 I do not try to name a cat after a special person. However, I do like to name a cat that I didn't rescue after something to remind us where they came from. For example, less than a year after I joined MyLot another member said that they had a kitten walk into their house and they were going to take it to Walmart and give it away. I hastily wrote her and asked where she lived. She told me San Antonio. Well, if you go from the south end of Austin to the north end of San Antonio. San Antonio is about an hour from Austin, where I live. I begged her to hold onto the kitten a couple of days to the weekend and I would drive down and get it. She agreed. I drove down to San Antonio with my now wife to get the kitten. I decided on the way down to name it Tony - or Toni if it were a girl - because we went to San An-Tony-o. This summer I drove to Marble Falls for a girl kitten - I mean, she's a calico. Because I couldn't figure out a name from Marble or Falls, I decided to name her Justine because Justin rescued her. We call her Teeny, like we call Spark Plug - Sparky - yeah, he was found in a car engine. After having so many cats I'm doing my best to take the easy way out of naming them...


• United States
8 Feb
@Janey1966
I named my little grey bottle baby kitten Opal, but the roommate calls her "the little grey ball of anger." She is.

• Carlisle, England
8 Feb
My brother likes to call Rosie 'Roundhead.' I asked him why and he said, "She's got a round head." Fair enough!



• St. Catharines, Ontario
13 Jan 22
Hey Janey! Good to see you back again. Condolences on your dad and it's nice that he sent a lovely cat to keep your mum company.

• Carlisle, England
8 Feb
Yes, I think that too. She's had a lot on her plate lately (family problems) so Rosie is definitely keeping her sane, that's for sure. How are you?x

• St. Catharines, Ontario
9 Feb
@Janey1966
Some vision and mobility issues, but still hanging in.

• China
13 Jan 22
Nice to see you ! Glad that your Mum got a new cat ! It will bring your Mum lots of joy.

• Carlisle, England
8 Feb
Hello there my favourite Chinese person! Yes, Mum is lucky to have a new cat in her life. It's also the Chinese Year of the Tiger too isn't it? Quite apt don't you think?

• China
9 Feb
@Janey1966
Thank you ! Yes ,both cat and tiger are feline and a cat is a miniature tiger.Best of luck for the year of the tiger !

• Raurkela, India
13 Jan 22
I did have pets but (cats) but no more stay inside the house. They only come sometimes for food.

• Carlisle, England
8 Feb
Yes, Mum feeds another cat that's been a stray for quite some time. He prefers to be outside though as he doesn't trust humans enough to be indoors at all. He's black and Mum's christened him Maurice. Strange name but it does suit him. It's good that you feed cats when they come to see you, that's very kind.

• Raurkela, India
10 Feb
@Janey1966
They don't go unless I give them something to eat.

• Nairobi, Kenya
13 Jan 22
Isn't the microchipping the one that is killing cats?

• Carlisle, England
13 Jan 22
Thank you. She is very cute.