Daily Bible Study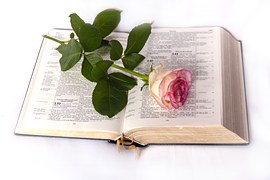 Green Bay, Wisconsin
March 5, 2022 7:34am CST
Day 264 Jeremiah 29:11 For I know the thoughts that I think toward you says the LORD, thoughts of peace and not of evil, to give you a future and a hope. 12 Then you will call upon Me and go and pray to Me, and I will listen to you. 13 And you will seek Me and find Me when you search for Me with all your heart. 14 I will be found by you, says the LORD, and I will bring you back from your captivity; I will gather you from all the nations and from all the places where I have driven you, says the LORD, and I will bring you to the place from which I cause you to be carried away captive. (NKJV) Who do you spend your time with? Isn't it someone who knows you and likes you? You share your innermost thoughts and dreams. You make plans to keep your friendship alive to the end of your life. God told Jeremiah He had plans and a future for him. He knew Him. He knew his dreams, hopes, and what drove him. God also told him He would bring the captivity back from exile in a specific time-frame—seventy years. As Christians, you know God kept His promise to bring His children back to Jerusalem and Judah. Israel returned to their homeland never to leave it again. Though they were a country ruled by Rome at the time of Jesus' birth, they never left their homeland again. God's plans for His people gave them hope their Messiah would walk among them soon. They looked for Him to end their slavery to other nations while living in their own country. What are God's plans for you? What bondage has He brought you out from? What hope drives you to your knees? God knows you. He wants to spend time with you. Do you know God and want to spend time with Him? Psalm 139:1 LORD, You have searched me and known me. 2 You know my sitting down and my rising up; You understand my thought afar off. 3 You comprehend my path and my lying down and are acquainted with all my ways. 4 For there is not a word on my tongue, but behold, O LORD, You know it altogether. 5 You have hedged me behind and before and laid Your hand upon me. 6 Such knowledge is too wonderful for me; It is high, I cannot attain it. David knew he couldn't go anywhere from God's presence, and he didn't want to. When you realize how much God loves you and wants to spend time with you, you won't want to be anywhere else but in His presence. He will tell you His plans for you. He will bring you out of Satan's bondage. God will end your captivity and free you to live a life committed to Him. Is Jesus the friend who sticks closer than a brother? Is He the one you make plans with to keep your friendship to the end of your life? Let's pray: Father, You know me better than I know myself. You have plans for me for my future. They give me hope. Help me look to You and spend time with you every day as a true friend. In Jesus' name, I pray. Amen. Copyright © 5 March 2022 by Valerie Routhieaux Image courtesy of Pixabay.
3 responses

• United States
5 Mar
This is such an encouraging lesson. I have always loved the book of Jeremiah, so much to glean from it. Have a blessed day.

• Green Bay, Wisconsin
5 Mar
Yes, there is a lot to glean from Jeremiah. Have a blessed day.


• Green Bay, Wisconsin
5 Mar
You're welcome. Have a blessed day.

• Greece
9 Mar
The reassurances and promises of God are a real foundation on which we can live full lives with with hope renewed every morning. However some of his promises are conditional. for instance the promise in Jeremiah that we will find God. The condition is that we seek him wholeheartedly. That is not an easy thing to do, we get distracted so easily. However God is faithful even when we are not. In the story of the prodigal son, the father ran to the son the moment he saw that his son was heading in his direction. God loves us, as you wrote, and he sets us free not only from sin but also our hangups. Love always wins in the end.