"In the Foothills of the Smokies, Way Down in Union County" (Part 2)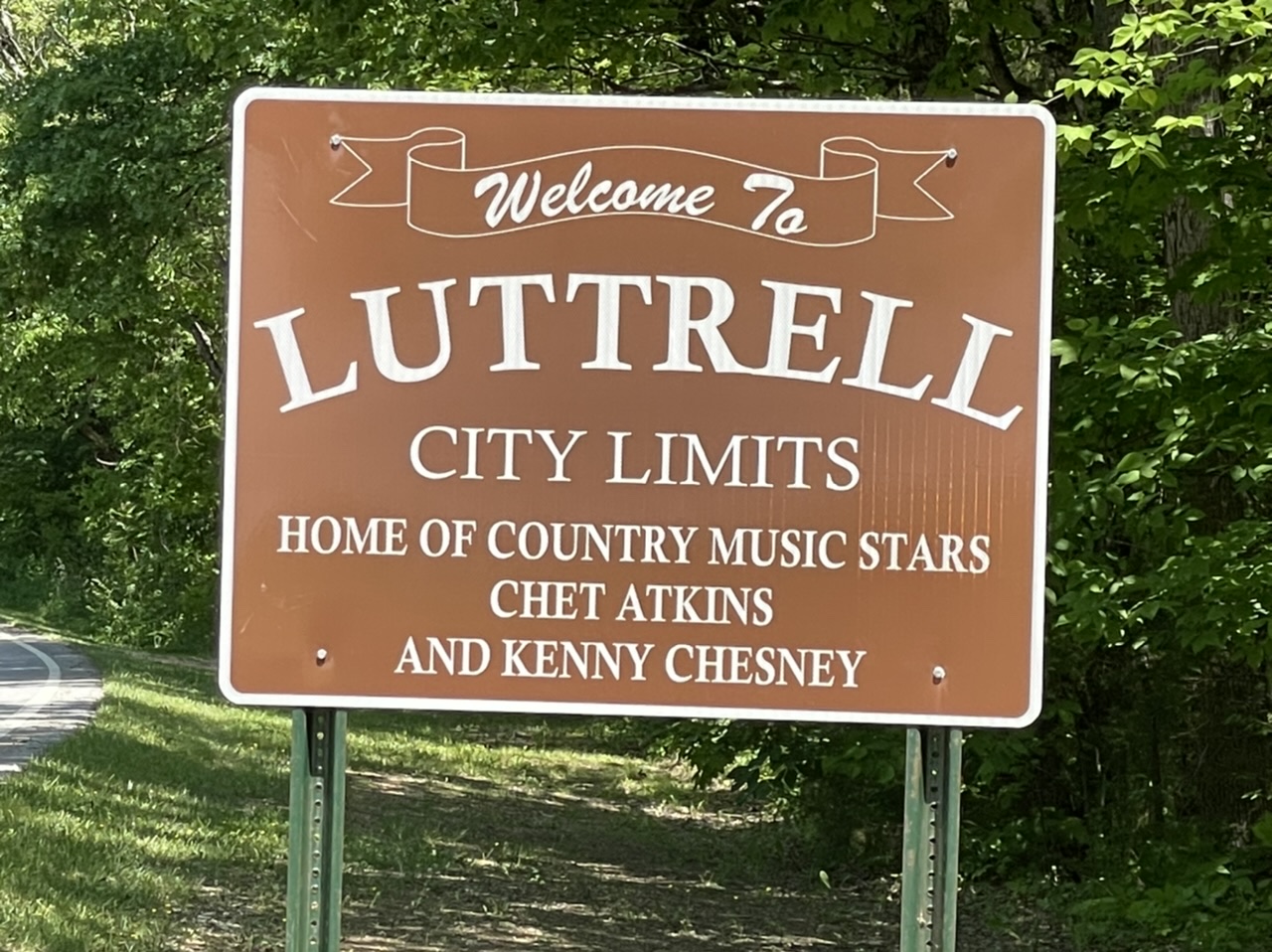 United States
May 13, 2022 9:06pm CST
After I finished visiting Maynardville I made my way six miles down the road to the tiny (as in, population of about one thousand) town of Luttrell, Tennessee for another pilgrimage to the birthplace of a country music great. The welcome sign says that Kenny Chesney was born in Luttrell. Maybe so, but he didn't change country music. Chet Atkins
did.
Chester Burton Atkins was born in Luttrell in 1924, just six miles down the road from his fellow future Country Music Hall of Famers Carl Smith and Roy Acuff (see part 1). A sickly child (I always boast I have something in common with Chet Atkins: asthma

[what, you think I can play guitar like
that
????]), Atkins taught himself things like playing instruments (he also played drums and fiddle) and building radios out of kits. From the latter he could listen to WNOX and hear people like Acuff performing, as well as his future brother-in-law, Jethro Burns. (Chet and Jethro, of Homer & Jethro, were in Cincinnati in 1945-46 and ended up married to identical twin sisters [and Jethro, when asked how they told their wives apart, quipped, "We've never tried."

].) Things weren't easy for Chet in the beginning, but he stuck with it, eventually getting signed to RCA Victor records in Nashville by telling a fib. One of my all-time favorite quotes from Chet explained this: Steve Sholes, then head of RCA's A&R department, didn't want to sign Atkins strictly as a guitarist, so Sholes asked Chet if he could sing. "Yes, I lied," Atkins wrote in his autobiography.


But thanks to all of that tinkering with electronic equipment Atkins did as a child he became more important behind the control boards in a studio instead of in front of the microphones. By the time 1960 rolled around Atkins was one of the main producers of country music in Nashville (oh, and he produced a few records by that Presley guy, too), including popularizing things like overdubbing. Most significantly, in February 1957 he had Jim Reeves put a little more polish on a song Reeves was recording and Atkins was producing. The song was called "Four Walls," and its massive success in country
and
pop began what we now know as the "Nashville Sound" era. ("Four Walls"…..where I have I seen
that
….

) I got to meet Mr. Atkins a few times. One time I
literally
ran into him at the Country Music Foundation: I was coming out of the record stacks with an armload of albums and guess who was right outside the door?

The other major bragging point for me came in 1997, when Chet was the leader of the "all-guitar marching band" that took the Hall of Famers down the road from the arena to the location of the new Hall of Fame for the groundbreaking ceremony. So, I can truthfully say I played guitar with Chet Atkins!

Atkins died in 2001, a week before it was announced that his brother-in-law had been inducted into the Country Music Hall of Fame. I hope he knew Homer and Jethro made it. Chet sure did Luttrell proud! Here's a little guitar wizardry from Mr. Atkins, along with Homer (on rhythm guitar) and Jethro (on mandolin) from the late 1940s:

Your browser isn't supported anymore. Update it to get the best YouTube experience and our latest features. Learn moreRemind me later
5 responses

• Lake Charles, Louisiana
14 May
I have heard of the name Chet Atkins even though I am not that familiar with his music.

• United States
14 May
He was a great guitarist. He's even in the Rock and Roll Hall of Fame as a musician. I still think his greatest contributions were as record producer, however.

• Redlands, California
14 May
See they get signs no signs for Rancid or Social Disttortion.


• United States
14 May
See, that's what they get from being from big towns in California instead of small towns in Tennessee.

(If it'll make you feel better, there's no sign in Lexington saying it's the hometown of Richard Hell.)

• Redlands, California
14 May
@FourWalls
Haha, This state and that town should be ashamed for not recognizing the people that made people smile.

• United States
14 May
@crossbones27
— they'd probably be like Kentucky. All of the music we've given the world, and all the parkways in the state are named for politicians.




• Defuniak Springs, Florida
14 May
Luttrell is where country singer Kenny Chesney is from too! I've been there!

• United States
14 May
I managed to stay awake while I was there. Did you?

It's not much, is it, to have given the world two major stars!

• Defuniak Springs, Florida
14 May
@FourWalls
I have some "interesting" stories of my time in Tennessee. No lie, I went to University of Tenn, because that's where Kenny Chesney went. So I spent like two days in Luttrell. I think I've seen every corner of that town.


• United States
14 May
So glad you are getting your fill of country music history. Take care.

• United States
14 May
There's no such thing as enough country music. Well, for me, anyway.