Former Philippines President Rodrigo Duterte Online Ads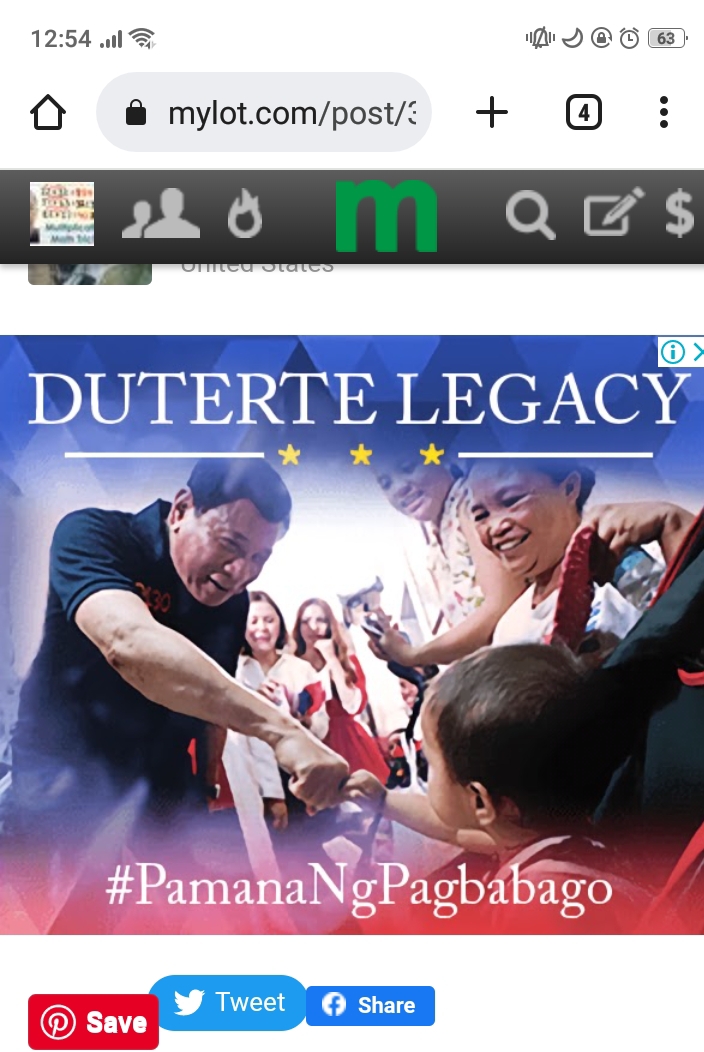 Quezon City, Philippines
August 5, 2022 12:12pm CST
Good morning from the Philippines. It's already 12:56am here. While waiting for a customer to assist with, I'm just responding to the discussions here as well as commenting. Not only that, I'm checking from time to time with Facebook posts. The reason of this discussion is bit confused that some of ads here (Philippines view) not literally to your end. I've seen an ad both myLot, Facebook and other websites of Former President about thanking him and informing what he did to the Philippines during his term. I'm bit confused, of course, he paid for the ads. My question is, he has lots of budget until even if he's no longer Philippines President. What do you think?
4 responses

• Philippines
5 Aug
well imagine the salary they get every month?

•
5 Aug
He still gets a salary after not being in the office? Btw I tried to tag you but to no avail hahaha I'm still figuring out myLot

• Philippines
5 Aug
@Greencindere
I guess? I actually dont know a lot in politics but yea. All I know is after his term he got 2 body guards to tag. get the
@DevMrSamEleazar
Not the Sam Eleazar Asuncion. idk what its called but yea lol

• Philippines
5 Aug
The salary of a sitting Philippine president is only P431,718/ month roughly $7,787 usd, which is relatively small if you compare how much politicians spend on campaign even with donations.


•
5 Aug
What is his legacy exactly? I haven't heard nice things about the guy but to be honest I never investigated further to check if he really is a bad guy like the Western media presented him to be.


• Philippines
6 Aug
He has done a lot of things over the past six years. Except that the pandemic made it difficult for him, but he manages to the end.

• Philippines
5 Aug
The Philippines is about to lose 2 billion pesos 36 million US dollars because of the government's scrapped heavy lift helicopter deal with Russia via this guy's pivot to Russia and China, we lost billions with Pharmally, the list could go on and on and our debt balloned to 12.68 trillion pesos when he left office

compared to the previous admin of Pnoy that has only 1.37T

So I'm just wondering what legacy??



• Philippines
5 Aug
@luisga814
just from the debt incurred alone it's very clear and the pandemic isn't even an excuse because the deficit is humongous

Like the saying goes " an empty tin can makes a lot of noise"

. Anyway, I lean more towards political atheism, that is I don't really care anymore whoever sits there, my main concern is taking care of my family and preparing for whatever emergency that might happen to our country. It's rare to see a Philippine leader from up to bottom that really cares for the people, it's all more towards vested self interest, I had lost hope especially with kind of voting populace we have, the Philippines deserves the leaders she has!

• Quezon City, Philippines
5 Aug
@louievill
Yes. I respect your belief in comparing with Former President PNoy. Just want to check, if you're aware of the legacy of PRRD versus PNoy?

• Quezon City, Philippines
5 Aug
@louievill
I respect your opinion. I love the way you explain your side about PRRD's legacy.


• Philippines
6 Aug
Those were probably done by his supporters. I don't hate them for supporting the former president. he was a way with words. Even the US was shocked by it.