"THE FABELMANS"--MOVIE THEATRE REVIEW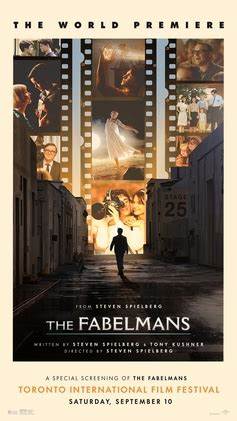 Ft. Lauderdale, Florida
December 2, 2022 11:18pm CST
Synopsis: a portrait of 20th century childhood--a young man's discovery of a shattering family secret and the power of movies to see the truth about each other and ourselves. No one questions the excellence of Steven Spielberg in any field of the movies and/or television but how do you question a man of such power who directs, co-writes and co-produces a movie? How does an editor tell him there is too much in the film, one too many story-lines and it is too long by 40 minutes? From the beginning we see the young Steven Spielberg,---oooopppsss, excuse me---Sammy Fabelman, director to be, coming home from viewing "The Greatest Show On Earth" wanting to recreate the violent train wreck and that is one of the most interesting story-lines throughout the film as he discovers how to use the camera and get the effects he wants. Another story-line, which was important in his life, is when he goes to a new school and is faced with antisemitism and though it is an emotional and, in one case, funny sets of scenes it is my thought that it is here where the editor (and co-writer) should have stood up to him and told him to leave it for the sequel! In the middle of the coming to be director story and the third story is a powerful one about family and certainly should bring both Michelle Williams, who plays his mother and Gabriel LaBelle, who plays the teenage Sammy, many award nominations if not the awards. Without getting in to spoilers every member in the audience had a reaction to the mother and son and that is where the film should have ended or shortly after. I am in the minority in being negative in anyway to "The Fabelmans" as Spielberg is getting some of the best reviews of his career and he has gotten many before. His direction of the actors and the great response they give him including a not to be missed cameo at the end, is worth the price of admission alone, represents perfection in film. "The Fabelmans" is currently playing in a limited amount of theatres and I suggest you put it on your 'things to do over the holidays' list! Steven Spielberg isn't known for making sequels but maybe Sammy Fabelman will!
6 responses

• Daytona Beach, Florida
5 Dec
Sounds rather interesting, thank you for the review,

• Ft. Lauderdale, Florida
5 Dec
You are welcome!



• Ft. Lauderdale, Florida
4 Dec
Yes it is! At 2 hours and 30 minutes it is just too long!

• Redlands, California
3 Dec
I believe you. I do not trust people in their reviews. Its either political or they hoping and its like dude just call it like it is. So your reviews are usually spot on.

• Roseburg, Oregon
3 Dec
That is a good movie review and I would like to see that movie. Thanks for the review.

• United States
3 Dec
Thanks for the review and critique. I will keep my eyes open for this one.

• Southend-On-Sea, England
3 Dec
Good movie review. Look like the movie is releasing in the UK in 2023.