STREAMING REVIEWS DECEMBER 2022 PART 1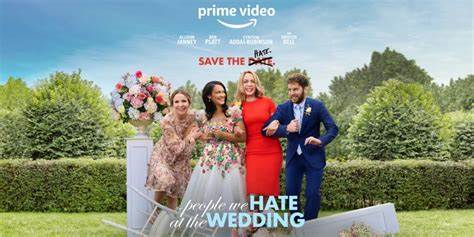 Ft. Lauderdale, Florida
December 5, 2022 11:53pm CST
(OKAY I GIVE UP--IF A COLLAGE WON'T POST I'LL JUST POST 1 PICTURE!! 1) "The People We Hate At The Wedding"--Prime Amazon--movie--1 hour & 39 minutes--Synopsis: family tensions ramp up among siblings in the week leading up to their half sister's wedding--I guess I was expecting another run of the mill movie about family and weddings, in-laws, etc., but Allison Janney alone woukld make this a good movie but add a strong supporting cast including Ben Platt and Karan Soni as lovers along with Kristen Bell as a sibling and Cynthia Addai-Robinson as the bride to be-- WOW! This really took me by surprise--short, sweet and a lot of laughs. 2) "Killer Sally"--Netflix--documentary--limited series--3 episodes--2 hours & 30 minutes-Synopsis: a body building couple rocky marriage and its shocking ending in a Valentine's Day murder--I truly don't understand how a physically abused person can stay with and say they love their abuser but I know many do--which is worse--living with fear of your abuser and living with them or fear of leaving?--if it happens today would the murderer have been found guilty and/or would you have found them guilty? 3) "Tiger Orange"--Amazon Prime--movie--1 hour & 15 minutes--Synopsis: estranged gay brothers grew up in a small California town with a homophobic father--Todd ran off to Los Angeles and is 'out and proud' while Chet remained at home to take care of their father and their business staying mainly in the closet--at 1 hour and 15 minutes it is and hour too long--not even worth the 'eye candy'. 4) "Takeover"--Netflix--Dutch film--1 hour & 28 minutes--Synopsis:--framed for murder an ethical hacker must evade the police while she hunts down the criminals blackmailing her--see November Part 3 for review 5) "Blockbuster"--Netflix--series---season 1--10 episodes--4 hours & 27 minutes--Synopsis: at the last remaining Blockbuster store (remember them?) a hard working manager fights to keep his store open--this belongs on one of the networks, not streaming, and you won't miss anything not seeing it as you have already seen better versions on NBC,CBS or ABC 6) "Wild Is The Wind"--Netflix--African film--2 hours & 3 minutes--Synopsis: 2 corrupt police officers investigate the brutal murder of as young girl and tensions come to a head--takes place in South Africa--about Black versus White justice, prejudice and a serial killer--nothing new--a lot of violence---make a mistake and watch the 1957 Hollywood "Wild Is The Wind" with Anthony Quinn, Anna Magnani and Anthony Franciosa---more fun in a sudsy way.
4 responses

• United States
6 Dec
I just started it I love Kristen Bell. I just hope there is no narrator throughout it all. I can't watch that. The beginning is so adorable. I hope to continue it. That ugly toy was so popular here. Oh no, I am sorry I love this lady I don't know her name she is the mother and I am watching it all. I can't turn this off.

• Ft. Lauderdale, Florida
6 Dec
Allison Jenny is the mother--she is a great actress!!


• United States
6 Dec
@GreatMartin
Oh, yeah but I could not continue the movie. I did find another so it was all good.


• Ft. Lauderdale, Florida
9 Dec
The 'candy' was about on the level of the movie!!!



• Daytona Beach, Florida
7 Dec
Thank you for the reviews, Right now I am checking out Christmas movies,

• Ft. Lauderdale, Florida
7 Dec
I leave the week of Christmas for that!!!


• United States
6 Dec
Thank you for the reviews and critiques.