what is the most imbearasing thing your child has done?

United States
December 1, 2006 4:02pm CST
My kids are still very young so I have not really had any moments yet but I am kind of looking forward to those days. I know it seems wierd to look forward to something like that.
2 responses

• United States
1 Dec 06
Out of the mouths of babes! Some times they don't do it to be funny either they are just overly curious, my son who is now 12, and I do remind him of this alot lately, We were at court for my ex husband, there was a female attorney on the phone and she kept talking to him and playing with him well he decided when she didn't answer him back about "da ball" he was going to lay down on the floor and look up her skirt, I turned 7 different shades of red, and apologized to her and she said the sweetest thing" He is just a boy who will be a man one day" lol I said" Guess he takes after his father "


• United States
13 Dec 06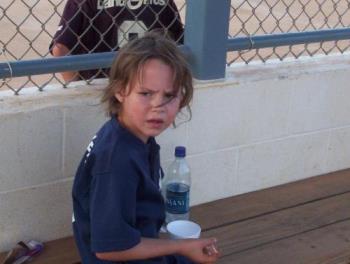 I was at the grocey store checking out. My daughter was sitting in the cart. I was unloading the food to put on the conveyor to check out. She was only 3 at the time. Then a very large woman can up behide us. My daughter asker her why was she so fat. I told my daughter that was not polite. But, in her young mind she did not understand. Then she ask me "why mommy she is huge?" I told the lady I was sorry she does not know better. I pushed the cart up and stood between my daughter and her. I told my daughter just be quite. I just wanted to get out of their as quick as possable.

• United States
13 Dec 06
Oh my goodness I think I would have had to leave everything there and leave the store.