What kind of dog do you have?

United States
December 1, 2006 7:35pm CST
I am sure that there are quite a few people on here that have pets, but this is a discussion specifically for dog lovers? What kind of dog(s) do you have? How old are they? What are their names? We have a Shih Tsu named Lucy that just turned two years old.
3 responses

• United States
3 Jan 07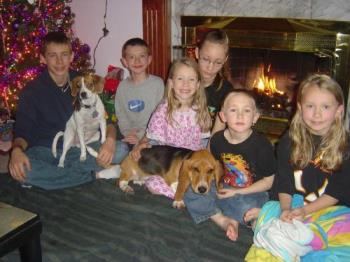 I am a beagle mix by the name of KC. She is a little sweetie that thinks she is human. She has to be under the covers to sleep. She has to have a sweatshirt when it is cold, or she refuses to go outside to relieve herself. But this past October, we also adopted into out family a Basset Hound. His name is Bailey and he is so sweet. But the complete opposite of KC. He does not want to be under the covers. He actually has thick fur compared to KC. He digs and has started KC back to digging. He doesn't want to be touched when he is going to sleep...but once he is asleep he wiggles his way up inbetween my partner and I. By the morning, we are sharing the same pillow if he is not half way on my head.

• United States
3 Jan 07
Lucy does the same things in bed. During the course of the night, she will sleep on every possible inch of the bed to find her perfect spot, only to end up on the pillow above my wife's head. She's so quirky.

• India
3 Jan 07
I have two dachshunds, one called 'peppei', two years old and the other 'baka', which is a year and a half old. They are an object of fascination in my 'hood.

•
2 Dec 06
A Staffordshire Bull Terrier (English dog) called Charlie, he's 9 now.