Is Taj Mahal really nice?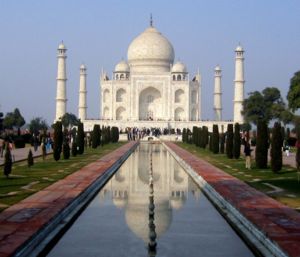 Philippines
December 3, 2006 1:06am CST
I havent been there yet but I wonder how beautiful it is knowing that it is one of the 7 Wonders of the world.
7 responses

• India
3 Dec 06
I have been there twice. It is really excellent, worth seeing and very beautiful. If you get an opportunity to see it in ur lifetime, dont miss it. Do see it. U will cherish the moments of ur visit to Taj Mahal.



• India
3 Dec 06
yup , it sure is beautiful . u should see it for urself :)

• Philippines
3 Dec 06
I believe I should, from what you guys have told me. But, you know, It's in India and I still have to travel from Philippines to India and its not a joke, I mean I need money and have to process some papers. But Im still hopefull that it will happen someday.

• Philippines
3 Dec 06
never been there too. but judging from what i've seed in pictures and movies i think it is really great. and to think is it a tomb and not a palace at that. its really majestic.

• India
3 Dec 06
ohh its a huge building very beautifull i am an indian & been ther a lot of times the work has been done to perfection, the carvings & embeding is so good it seems they had some really good machines doing the work its just pure art u gotta see it wen u visit india

• Philippines
3 Dec 06
Thank You. Are there any fees that you have to pay for you to get to see the structure? Is someone going to explain to you about the history of the place? Im just curious about what could be the best things to do to you know, completely enjoy ehen you get there.