What would you do if you won a million dollars?

Canada
December 3, 2006 9:26pm CST
Donate? Help out family? Vacations? Blow it? What dreams could you live out?
3 responses

• United States
4 Dec 06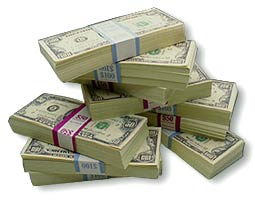 I would definatly donate some, i would help out my family, buy a house and a nice car, put a nice chunk away, and then have some funy! Pay all the bills, go on vacation

• United States
4 Dec 06
I'd make sure to have me and my family straight. For once. And then I'd make sure I invest it, into even more money. 1 million dollars is alot of money, but it really isn't alot of money. It can go quick if you just splurge on things that you don't even need.

• United States
4 Dec 06
First, we'd pay off my husband's student loans. I would also save as much as I could, put some into savings for our son for his college/life fund. I would also put some into savings for us (on a rainy day). I would also pay off our mortgage as well as pay off my parents and my in-law's mortgages! :) Or maybe even buy them all new houses...