Is it a Birth Right for a Baby Girl to have her ears pierced?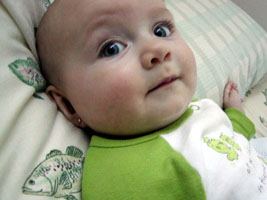 United States
December 4, 2006 1:21am CST
I always thought about if I ever had a little baby girl I would have her ears pierced. I just thought about it as something that we do when we have baby girls. Just part of being a girl. My daughters father feels we should wait until she is a teenager and it can be a special occasion for something she has done well. I guess I have gotten used to the idea but would like to know what you other moms and dads think about that. Should you pierce a baby girls ears when she is a few weeks old or wait till she is of age to make that decision for herself?
1 response

• Canada
4 Dec 06
Well with peirced ears you can always let them grow in if she decides that she doesn't want them anymore, it's not like you're giving her a tatoo lol. I don't think there's anything wrong with it, my sister had her little girls ears peirced before they were 1.