Are any two fingerprints the same?

Philippines
December 4, 2006 5:47am CST
Well for me no, not even those identical twins have the same fingerprints.
6 responses

• India
4 Dec 06
no i do not think so, accept twins, in this world that is not posible,

• Philippines
5 Dec 06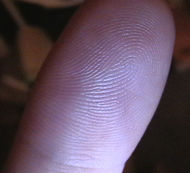 According to wikipedia A fingerprint is an impression of the friction ridges of all or any part of the finger. A friction ridge is a raised portion of the epidermis on the palmar (palm and fingers) or plantar (sole and toes) skin, consisting of one or more connected ridge units of friction ridge skin.These ridges are sometimes known as "dermal ridges" or "dermal papillae". Finger prints can never be the same.