Why do People say Dragons Look like snakes?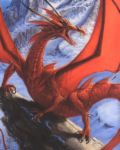 United States
December 4, 2006 7:56am CST
im a major dragon collector and i have people tell me they cant stand to look at them cause they look like a snake,i just cant see it,my mom is the worst one with it.i think they are so pretty and i love the legends on them,what looks like a snake on them?????????
7 responses

• China
4 Dec 06
They are similar.But the biggest different is that the dragon have feet,and the snake haven't.

• United States
4 Dec 06

i think they look like snakes with feet, and sometimes wings. its a popular collection i realize and thats great, but they are serpent like.

• United States
6 Dec 06
I honestly can't see where a dragon looks like a snake at all. And if it did, you wouldn't like them.

• United States
5 Dec 06

despite the obvious size only the longest, sinewyest dragons could remind me of snakes. apples and oranges I say. happens that I like both creatures. only one I can have as a pet.

• India
4 Dec 06
Yea maybe sometime with that long body they might resemble a snake..but i think Dragons more look like a royal Bird! :)