The Side Ponytail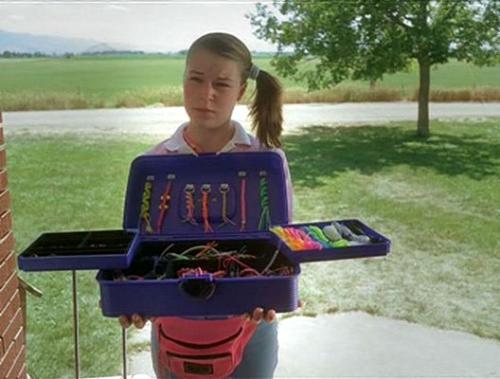 United States
7 responses


• United States
4 Dec 06
lol where have you been? The 80's are back and here to stay. Going to watch flashdance now.....

• United States
4 Dec 06
I was born in 1982 so I was too little to enjoy most of the 1980's but now that I'm an adult I wish I could bring them back so I could enjoy what I missed!

• United States
16 Dec 06
I just got rid of my leg warmers a few years ago? Way too long to hold on to things don't you think? hahaha


• United States
5 Dec 06
Oh my gosh, I didn't know if I should laugh or cringe. There is no way I want to see the sideways ponytail come back. I put my girls hair in pontails every day. They some times ask for pig tails. I can do that. But if they ever asked for the side ponytail, I would have no problem telling them a definite NO! That is one of those fashions that you hope not to see again in one's lifetime. :) But great question!

• United States
5 Dec 06
Thanks for the compliment. I was thinking about Napolean Dynamite and there was this great interview on the radio a couple of months back where the girl with the side ponytail in ND was talking about bringing it back.

• United States
5 Dec 06
Wow!!! mY daughter just walked in with a sideways ponytail!!! I asked her if she was on myLot but she said that she was playing with the girls. Please don't tell me this style is coming back!!!!

• United States
5 Dec 06
I think I jinxed ya, sorry!:(


• United States
4 Dec 06
Long hair is my personal fav. I couldn't stand when I had short hair and couldn't do anything with it.

• Singapore
16 Dec 06
i think it should stay in the 80's ...i dont know why but it's so weird...now, dont get me wrong..i used to tie side ponytail too but it's just so weird to do it now. i've seen a girl (about 20 years old) doing that recently and i just cant stop staring LOL

• United States
16 Dec 06
i dont think it should come back i think if ur over the age of 10 u shouldnt wear it :) and when u see a woman wearing it expecially if shes blonde u just think dumb dumb dumb i donno for some reason the side ponytail makes woman look immature and dumb...its cute just not for any1 over the age of 10

• Australia
5 Dec 06
I dont think there's anything in the fashion or beauty trends from the 80s that should make a comeback....lol

• United States
5 Dec 06
I think the side ponytail should stay in the 80's along with all of the other trends that became popular in that decade! I think the 80's was the worst decade for fashion! lol