What color of your eyes?


Indonesia
December 5, 2006 2:21am CST
hmm my color is black. what about your... btw i like blue eyes. thanks
10 responses

• Malaysia
1 Feb 07
Mine are black. Asian normally have this type of color, rite?


• Australia
5 Dec 06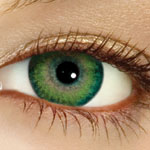 I am very proud to say that I was blessed with unnatural looking (but totally natural) emerald green eyes. Everyone thinks I'm wearing contacts, but I'm not. The picture I added is very similar to my eye colour; however, those are contacts. My eye colour is the only part of me I like!

• Hong Kong
5 Dec 06
Mine is brown but I like green eyes,because they are rare and look sexy.

• India
5 Dec 06
I have black eyes but I wish I could have grey/ blue. i just love them

• India
5 Dec 06
my eyes are black..here in india that is the most commom color