Would you go to McDonalds for a salad?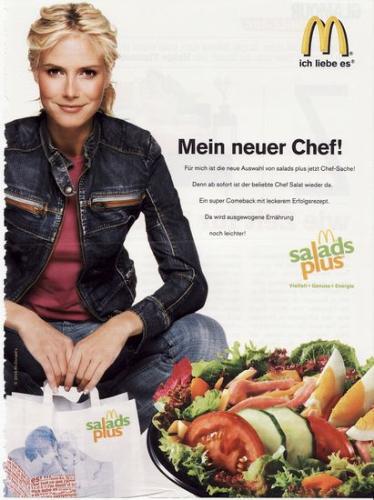 Malaysia
December 5, 2006 6:47am CST
My brother says he can eat food from McDonalds everyday and not get tired of it. He should watch that documentary 'Supersize me'. Anyway, would you go to McDonalds and order a salad? Well Heidi Klum is telling you the salad there is good. If you've tried the salads there, do share your experience:)
10 responses

• United States
5 Dec 06
from what I have heard the salads are pretty healthy .. but I dont go to McDonald's for a healthy meal, I know its not good for me and its fast food so my family and I only eat it as a treat now and then... if I want healthy food I will make it myself that way I know everything that has gone into it..

• India
5 Dec 06
HAHA! me 3! i have been to mickey ds maybe 50 times this year.about 48 times were just to pee.and mostly at the andheri station branch ha ha

• Spain
5 Dec 06
i hate mcdonalds and their hamburgers, is rubish

• India
5 Dec 06
yeah i was wondering that too.since when does macdonalds in msia/india have salad? and since they dont have it,i wonder why not? i love the coleslaw in kfc though.eaten together with the mashed potatoes.with a little bit of hersheys chocolate syrup + 45g of cholesterol.now that's a healthy meal!

• Sweden
5 Dec 06
I have tried them and they are nice - but not even those are very healthy i´m afraid =)

• Malaysia
5 Dec 06
Cool..I don't think they have salad here in my country's outlet. Why aren't they healthy? I'm sure they consist of mainly vegetables right?

• Malaysia
5 Dec 06
Really? Why's that? Don't you have it in your country? Or you're just not a big fan of fast food?

• United States
5 Dec 06
McDonalds does have fairly good salads. I like Wendy's salads better though. Wendy's has a larger variety and the one with chili on it (a Mexican salad of sorts) is delicious. I must say I am very happy that more fast food restaurants are providing healthy alternatives. It's refreshing for those of us who are on the go more than we want to be.

• Malaysia
5 Dec 06
I don't know about salads in McDs outlet in Malaysia, but i like their hash brown. It's potato. SHould be nutritious

• Australia
5 Dec 06
no mcdonalds have served junk food for so long now the word healthy dosent come to mind at all.if i feel like a salad thats the last place i would go