What is the highest water fall of the India?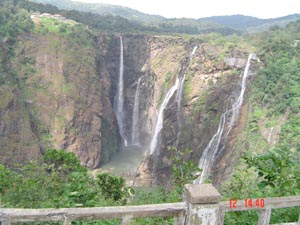 Sri Lanka
December 5, 2006 8:51am CST
Jog fall Jog fall located on National Highway number 206 connecting Honovar to Tumkur and is well connected by road. Jog fall is 372 KM from Bangalore the capital of Karnataka State. Nearest best place to stay is Shimoga the district headquarter. You can also stay at Jog fall as we found some budget hotels of Youth hostel and KTDC. From Shimoga Jog fall is 105 KM and is nearly 30 KM from Sagar. You can stay at Sagar also if you want to be near to the Jog fall. Shimoga is well connected by road from Mysore and Bangalore, in day time you can get bus in one hour duration from both these places Jog fall close viewWe started from Mysore at 2.30 PM and reached Shimoga at 9.30 PM ( same day ). We stayed that night at a hotel near the bus stop and next day we took a local bus to Sagar at 9 AM. Buses runs frequently between Shimoga and Sagar but you are lucky if get a direct one to Jog fall. Shimoga to Sagar it took 2 hours and we board another local bus at Sagar and finally reached Jog fall at 12.15 PM. While returning we got a direct bus from Jog fall to Shimoga and we reached our hotel at 6.30 PM. So you can get a better idea about the stay and journey as we stared at 9 AM from our hotel at Shimoga and returned to hotel at 6.30 PM after enjoying 3 hours at the fall. On our return trip to Bangalore we board one deluxe bus at 11.30 PM and reached Bangalore in the early morning 6.30 A.M ( 7 hours ). Distance from Bangalore to Jog Fall: 372 KM From Shimoga to Jog Fall: 105 KM Near the fall From Sagar to Jog Fall: 30 KM There is one train root near to Shimoga, but I found road transport is better. If you have any other experience or wants to know some other details. Use the forum to discuss with others.
No responses