Soy Tarts?

United States
December 5, 2006 9:07am CST
Does anyone here enjoy soy over other types of wax? Do you like burning candles or tarts? I personally like soy over other types of waxes and would rather melt a tart then a candle. In my opinion you get more fragrance from a tart for some reason. I myself make soy tarts (I sell them online) and love it. I also make candles, but I hardly burn them. There's always a tart (or 5) burning in my home. What about you? What types of candles do you make? Which do you prefer?
4 responses

• United States
5 Dec 06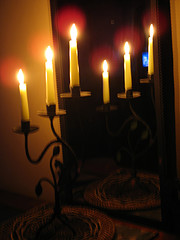 Oh that is so cool, I have been making soy candles for the past 2 years and I love it:) I would love to start my own business but I have no idea how to go about it,where to start stuff like that. I haven't tried making the tarts, I love doing the bigger triple and quadruple wick candles, I change my scents often to fit my mood. I really prefer the soy wax, it burns cleaner and it helps support the farmers of America:)

• United States
5 Dec 06
Wow!! Those are pretty big candles!! =) Start up is pretty easy, getting customers to the site is a whole nother story. Next year I would like to introduce my products to a few of the little stores in my area. I would LOVE to have another outlet other then the internet to sell. =)

• United States
5 Dec 06
I would love to learn how to make highly scented candles and tarts. I buy Gold Canyon candles because they have such a great strong fragrance. I burn so many candles I really need to learn how to do it myself. Do you sell quite a few candles online?

• United States
5 Dec 06
My tarts are my best sellers - every now and then I will get an order or 2 for candles. I don't think I've heard of Gold Canyon? Are they parrafin or soy wax?

• United States
5 Dec 06
I LOVE BOTH SOY CANDLES AND TARTS. MY MOM MAKES THEM.WHAT I LOVE ABOUT THE SOY CANDLES IS U CAN ACTUALLY USE THEM AS A LOTION. NOW MY MOM CANDLES LAST ABOUT A MONTH AS FAR AS THE SMELL SHE ADDS EXTRAX SCENTS

• United States
5 Dec 06
I am too lazy to do that kind of thing. I usually burn inscents. I have some candles incas ethe electricty goes out.