Who invented the internet, when and where?

India
December 5, 2006 3:40pm CST
Please give me the correct and approviate answer..... no half vollies plz
6 responses

•
5 Dec 06
I think a company called ARPA were the first people to use/invent the internet.

• United States
5 Dec 06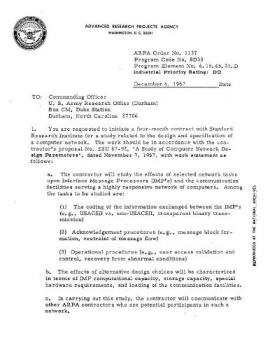 Here is a great link to learn about the history of the internet with a snippet to get you started. http://www.fcc.gov/omd/history/internet/something2share.html When the Defense Department issued a $19,800 contract on December 6, 1967, for the purpose of studying the "design and specification of a computer network," the world didn't take notice. But it should have. For, from that small, four-month study grew the ARPANET. And, from ARPANET emerged the Internet. Like many information and communications technologies, the Internet we know today grew from seeds planted by the U.S. government. Specifically, the Advanced Research Projects Agency (ARPA) was established in 1957 to respond to the perceived scientific and technological advantage the then-Soviet Union displayed in launching the Sputnik satellite. ARPA was charged to "direct or perform such advanced projects in the field of research and development as the Secretary of Defense shall, from time to time, designate by individual project or by category." In plain language this meant that ARPA, along with the newly created National Aeronautics and Space Administration, was to regain technical superiority for the United States.

• India
5 Dec 06
from wat i studied this is wat i know... internet is just an upgrade of the US military's ARPANET.... dnt know the specific person who created it... but it was an effort of many many ppl,,try lookin thru the following links for detailed reading : http://usgovinfo.about.com/blgorenet.htm http://en.wikipedia.org/wiki/Internet#Creation_of_the_Internet


• United States
5 Dec 06
I'm not sure, but doesn't Al Gore claim that he invented the internet?