HEY!!! IT IS MY 3RD WEDDING ANNIVERSARY!!!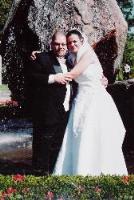 Canada
September 17, 2006 9:57am CST
HEY it is my 3rd wedding anniversary on wed sept 20th. *** i'm looking for the best anniversary gift to give my wife anna. she is a super mom she takes care of a 2 years old girl and a 3 week old boy. and she does not show any stress. at least she does not take it out on me. when we got married, we could not afford to have a honeymoon. and the last 2 anniversaries, we could not do anything, it was a little difficult with a 1 month old baby. *** almost any ideas will be acceptable. but remember cash is low, especially with a 3 week old and a 2 year old.
4 responses

• United States
29 Sep 06
Congratulations! Give her a weekend without the kids even if you stay at home. Treat her like a queen, which it sounds like she is. Make her a fabulous meal (if you don't cook then ask a friend to prepare it) place a pretty heart shaped trinket box with a hand written love note from you inside, one red rose in a vase beside it, a candle or two lit, all this sitting in the middle of the table, not to be open until the meal is over. You know what she enjoys otherwise as a gift, so maybe have a small present wrapped there too. Now this is something I would love to happen to me. I don't know either one of you so I dont know what makes you two happy. Anyways, I would rather receive the love of my hubby on our anniversary in a simple way like this than all the presents in the world. Have a great anniversary!! Oops I just looked and I have missed it lol, so tell us what you did.

• United States
29 Sep 06
im a little late, but just wanted to say congratulations...best of luck to you and your family... just let her know how awesome a mom she is...she'll always appreciate that...

• United States
27 Sep 06
I think just taking her out to eat at the favorite place your wife like would be good idea if you dont have much money to spend on.