The Cat and the Parakeet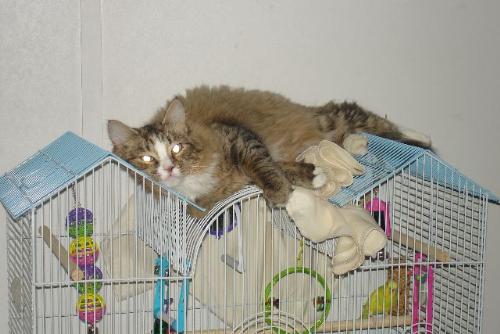 United States
December 6, 2006 12:33pm CST
This is a funny combination and very entertaining. However,I have not been bold enough to let the parakeet out to fly around the house yet and let the chase it. I have alot of breakables I dont want broke. I love my cat, she is the weirdest cat I have ever seen.She fetches like a dog,she is amazed by water, she is amazed by the printer-when it starts printing she comes running to watch it,she barks like a dog when she sneezes and i could go on and on. And she loves the bird. I think she wants to eat it. My daughter actually let the cat get inside the bird cage one day-that was fun. I heard all the racket and went to see what was going on and sure enough the bird and cat are inside the cage going crazy .So I had to open the top and free the bird. Of course my daughter thought it was amusing and she is 11. I think she shouldve been a boy.
3 responses

• United States
6 Dec 06
well to help you out, the first thing you need to do is clip the birds wings, it will make it easier to train him. then once he is trained you can let his wings grow back in. you will need to still keep an eye on him. think of it like having a baby crawling around your house.

• United States
9 Dec 06
my cat is more like the baby.she is so nosy! and gets into everthing just like a kid. has to snoop in grocery bags when you set them down. And she is crazy about the printer-when I start to print something,she comes running to watch it.

• United States
17 Dec 06
I have a cat like that too. Thanks for the best response! :)

• India
7 Dec 06
ya this is really good.i like it.but how is the bird now.i mean both went crazy na.so how is the bird.

• Philippines
7 Dec 06
Nice to hear that, you have birds and cat. Me too here like to have birds soon, a lovebird for only3 $ each.