Getting married in Las Vegas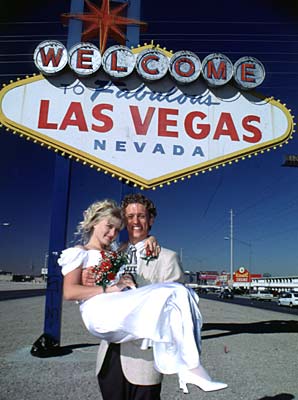 United States
December 6, 2006 6:45pm CST
Would you do it? Or would you rather have a "real" wedding? Do you think that marriages in Vegas should count? Do you think all people who perform weddings in Vegas are legit? How do you avoid being scammed and not having a real marriage license?
5 responses

• United States
27 Sep 07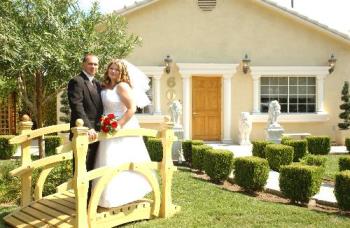 Hi I was married a week and a half ago in Las Vegas! It was beautiful! We had our vows said by a christian minister and prayed together. The chapel was very pretty. I wore a actual wedding dress and he a tux. I guess the biggest diffrence was noone came with us but we had a webcam for everyone to watch. Not everyone gets married by Elvis, and yes the liscense is real. We went to Clark County justice center and bought out license after checking in our hotel. Many people chose to how ever go file for thier license just before they were off to be marriage. I resent the term real wedding because I had an ellegant wedding and eveyone saw it! No I didn't have to plan a year to put everything toghether, but I had a beautiful bouquet with fresh red roses. We had very high quality pictures made. Look at how many people opt to go to the beach or an island to get married. is that not a real wedding?! I feel sorry for thise who think they have to plan for months and months for a so called "real wedding". We had everything picked out in two weeks no fuss no muss and you would never have know it by my pics had I never said it! What counts to me after all is not the ceremony but the marriage!

• United States
17 Nov 07
Andrea: Congrats on your wedding! I wasn't trying to say that Las Vegas weddings aren't "real weddings" and I personally don't believe in spending the same amount of money on a wedding as you could on your first house but I was trying to spawn a discussion, that was my intention. I think the thought is the most important thing, not the reception or ceremony. I think it's ridiculous to waste all that money, ever think about what most couples fight about? MONEY!!! So you spend thousands of dollars on this elaborate ceremony, for one day, and the rest of your marriage you're worrying about how you're going to pay the mortgage. It's stupid.

• United States
9 Dec 06
No way! I LOVED having our big wedding. We got married in the beginning of December two years ago, and it was so magical. Everything was decked out with Christmas light and decorations, candle, it was gorgeous. I feel like getting married in Vegas would take away all that romance!

• United States
9 Dec 06
That does sound beautiful, a Christmas wedding! :)

• United States
7 Dec 06
I would prefer to have a "real" wedding! it just seems more romantic and has more of a meaning, than just going to vegas and not having much of a planned wedding! But I guess for those who have gotten married in Vegas, its not bad or anything its just what they prefered. I know that once I do get married, I would love to go spend some time in vegas with my hubby!

• United States
7 Dec 06
I think that would be fun, to get married and go to Vegas for a night or two, and have some fun. I'd also love to honeymoon in Chile.


• United States
7 Dec 06
I think it would be fun to get married in Vegas, and I'm not a big fan of church weddings, but I'd probably want to also get something from the court, so that I'd know my marriage was legitimate.

• United States
17 Nov 07
Um...EXCUSE ME?! What a disgusting thing to say! How dare you imply getting married in Las Vegas isn't "real". Are you aware that over a million people LIVE in Las Vegas? DO you suggest the move just so they can have a "real" wedding? Do you think all the people who perform marriages in your town are "legit"? How do you keep from getting scammed and not getting a "real" license there? What a ridiculous thing to say.