F_1 year projection of trend and trading range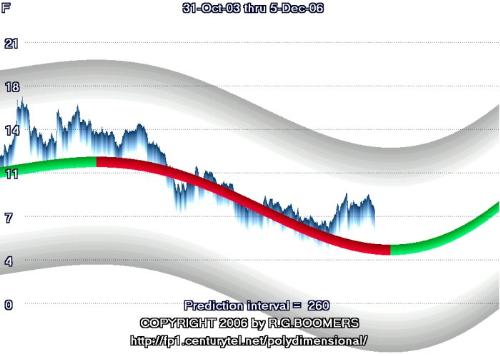 United States
December 6, 2006 7:25pm CST
Here is a 1 year projection of trend and trading range for F. This chart is NOT a recomendation to buy or sell. These charts can be wrong. Often times they are. The method for producing these charts is experimental. Click the chart to enlarge it enough to read. Do you think this projection is about right or completely wrong?
1 response

• Australia
7 Dec 06
Well I'm sure you will keep at trying to factor in the $ aspect of it red, imagine the success if you dare , if the $ projection did work!!

• United States
7 Dec 06
Well, it works reasonably well but the trading range is too wide. For example, if I were to predict F would go UP or DOWN 5$ tomorrow, the odds of that being correct are 99.99999999999% or better. However, that forecast is essentially worthless. My forecasts are a little better than worthless, but only by a little bit.