How can we make other people happy?

Philippines
December 6, 2006 8:47pm CST
A joke??? Naahh~It can be but not a corny j0kezzz... Here... We can make other people happy by being your self, and your own ways of making others happy...
4 responses

• United States
7 Dec 06
In my experience as long as you are honest and compassionate and not trying to be something that you are not, in other words be yourself, then you have done your best to make others happy around you. That is all any of us can do.


• Philippines
7 Dec 06
Be happy. Yes, you can make people happy by being first happy with yourself. Laugh is said contigeous. You can notice happy people are surrounded by happy people also. Some one said, happy is a state of mind. The decision that you want to be happy makes you happy.

• Philippines
7 Dec 06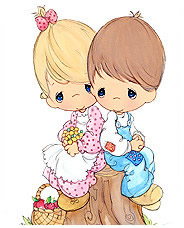 we can make other people happy by being just with them... our presence means a lot...! it is a fearful feeling of being alone so when you have friends and family that you know you can turn to anytime and anywhere, i guess that would put the best smile in your face=)

• Philippines
7 Dec 06
well, there are more ways to be happy but sometimes we cannot please other people.