what brand of foods do you feed your pets?

United States
December 7, 2006 5:43pm CST
I feed my dogs Canidae but add pedigree canned food I was adding blue bufallo but my dogs actualy prefer the pedigree canned to it . My cat eats blue bufaloo kittian and was feeding nutro max pouch with it last month ran short of money brought a case of friskeys canned bad idea she does not like it .I am donating it to my vets no kill shelter I guess . What foods do you feed and what results do you get?
8 responses


• United States
8 Dec 06
canidea is also a high brand I did feed nutro max but found blue bufaloo to be better it has no corn most nutro max except the lamb rice has corn .I try stay away from corn except I know pedigree has it but it is what my dogs love .I guess I can make them eat blue bafaloo . Don't get me wrong nutro max is my next best choice to blue bafaloo and feed it also .

• United States
8 Jan 07
We have a puppy, that we got almost two months ago. We feed him the Purnia canned puppy food. He seems to like it and it was what his previous owners were feeding him, so we decided to stick with that.

• United States
8 Jan 07
Personaly I perfer hard food as canned is not the best on the teeth.It also cost more ,It looks like your baby is a large breed puppy they need to not eat puppy food as it can cause them to grow to fast unless it is large breed puppy food .I have a German shepherd the breeder told me to just give her a good quilty adult food even while a puppy and no added vitumins to keep her from growing to fast .If they grow to fast they can get hip dyplasia and other bone issues. Good luck with the puppy .

• United States
5 Jan 07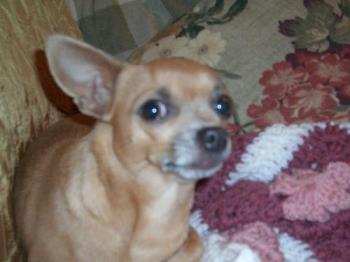 We feed our dogs Iams. Although my Pit is going through a rebelious stage, she just looks at her food bowl and walks away. She hasn't eaten in about 3 days, so I just went to her vet and bought her Hill's Science Diet and she chowed down. BTW, I saw you live in Seneca, I live in Surfside Beach and my SIL lives in Wallhalla. Hello fellow South Carolinian!!

• United States
8 Jan 07
Well alot of top breeder do change foods be cause dogs can get bored with thier food .I am not a fan of science diet but if he is doing good on it thats all that matters . Yea and Walhalla or hogwalha is right down the road j/k on the name there small word .


• United States
10 Jan 07
I get Royal Canien and Nutro Max. They are very expensive, but they don't have by products or dye in them. Loaded with fiber and vitamins. All dry food. They get Greenies for a treat. Also, very healthy. Their coats are shinner and they are very healthy. But my little one also eats people food. But only a tiny bit. She loves cherrios and milk and pancakes.

• United States
9 Jan 07
I feed my dogs iams. I was feeding them Purina High Pro, but they decided they didn't like that anymore. So I switched to iams. They love it. :)


• Janesville, Wisconsin
20 Apr 07
My cats and dogs get whatever the cheapest brand is, but they also get plenty of human food left overs, Steaks, and burgers etc.. We are careful not to give them anything that they are not suppose to eat... I however am Loyal to Friskies when we can afford it. They were nice enough to donate to us 50 bags, and 20 cases of cat food one year.. That year we had 32 cats and kittens, we gave many away that year. We currently have 9. During this last pet food recall we lost at least 5 .... So... I am thinking about going the Make your own cat and dog food route in the future..... However, I'll still by Friskies from time to time until I know I repayed them twice in full what they had donated to us. :) . - DNatureofDTrain

• Janesville, Wisconsin
20 Apr 07
Oh, and thanks for sharing with me the petfood recall list shelonewolf! http://www.accessdata.fda.gov/scripts/petfoodrecall/#All Take care, - DNatureofDTrain