ONLY GOD KNOWS WHY

Malaysia
4 responses


• United States
11 Dec 06
There is always a reason for everything. It is always in the hands of God. We as humans are left puzzled often times though, but I think everything will come together at some point in our life. All unanswered questions will be revealed by the Lord once we get to Heaven.

• India
8 Dec 06
sorry dont believe in god!!!

• Austria
8 Dec 06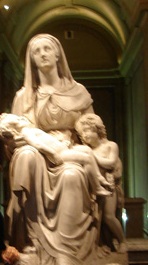 I agree. there are many things that we can not theorize and answer. I think these are all part of the limits set by God. Our knowledge is limited and we can not do anything about it. There are certain things that only God knows. What we can do is to accept that fact and just do good things to our fellowmen. There are things that we dont really need to know. But, humans are alwaysa curious and always want to try things out.

• Malaysia
8 Dec 06
thanks for the response.you put it very nicely done.