do u fans of Radiohead ???

Indonesia
December 8, 2006 7:06am CST
10 responses

• Romania
8 Dec 06
I've heard about radiohead it's an acceptable radio

• Philippines
18 Jan 07
i love the "ok computer" album!!

• United States
15 Jan 07
They are deep without being pretentious. They can take what would be a simple song if sung by anyone else and make it into a masterpiece. This group has an attention to detail that is really not equaled by anyone else. I think they're excellent, very creative, and always changing. Even if I don't like the direction they're going in at the moment, I will always be able to look back on music they did in the past and adore it.

• India
12 Jan 07
i love radiohead because of the way they have broken all boundaries involved in making music and still retained the sublime simplicity of their songs.....totally original, relevant and amazing awesome lyrics...and i love the way jonny greenwood uses his guitar on the tracks..


• United States
20 Dec 06
Because they are always creative. Every time you think they must have run out of new ideas, they come up with something, well, new. Nobody else sounds like them. They manage to make music that is totally unpredictable, and yet it makes sense. They play with all aspects of a song: time signatures, dynamics, backwards masking, unusual instruments, etc. They don't allow themselves to be boxed in by what other artists have done. The songs mean something. I love being blown away by a band, and it happens so rarely that Radiohead stands out as one of my all time favorites.

• Indonesia
16 Dec 06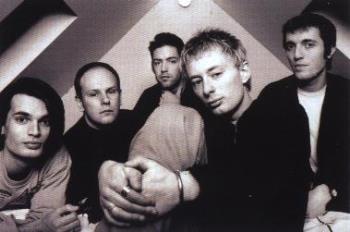 I'am a big fans of radiohead .... radiohead always make a wonderfull song.. the best band ever in the worlds ...