Pakistani Cuisines(Desi)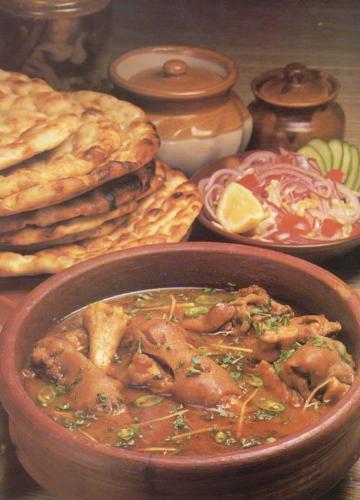 Pakistan
December 8, 2006 2:13pm CST
Pakistani food iz da most famous around da world,because they r cooked verywell in butter oil and desi Ghee. pakistani are very curious about the taste and quality,so they like good food with yummy and delicious taste. Pakistan food has very big variety in it.all sorts of foods are made with different taste for different people.The Most Famous food In Pakistani Cusines are: 1.Parhata 2.Kababa 3.Daal Puri 4.Bar B.Q Chicken(Tikka) 5.Handi (Chiken and Mutton) There are many other things which are famous just because of the taste.The Taste varries a over they way that they are cooked in may be oil or in butter,Bar B.Quee or baked.
4 responses



• United Arab Emirates
18 Dec 06
Spicy baked fish Ingredients: 1/2 tsp chilli powder 1/3 kg fish, skinned 3/4 cup yoghurt 1 tbsp lemon juice 1 tbsp garlic, crushed 1 tsp coriander, ground 2 tsp all spice powder Salt and pepper to taste Lemon wedges Mint leaves for garnish, chopped Method: Rinse fish, set aside in a strainer to dry and place in a shallow non-metal dish. Sprinkle salt and pepper. Mix together yoghurt, coriander, chilli powder, garlic paste and lemon juice. Rub it well on the fish, cover and refrigerate for a couple of hours. Oil a baking dish and put the marinated fish in it. Place in a pre-heated oven and cook for about 15 minutes on medium heat. Check to see if the fish is done, if it is not then leave for five more minutes. Serve hot, garnished with lemon wedges and chopped mint leaves.