Does any out there suffer from TMJ?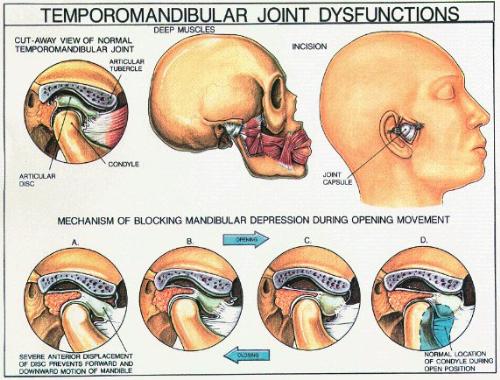 United States
December 8, 2006 5:43pm CST
I've got a horrible migraine right now brought on by my TMJ!!! It'd driving me nuts 'cause I can't sleep. What do you do for these? My dentist gave me some kind of anti-inflamatory but it doesn't help. So I've been taking Tylonel with Codine #3 that I got after my miscarriage last year. That usually helps...
2 responses

• United States
8 Dec 06
I am guessing your dentist gave you naproxen for it. If he did that stuff doesn't work worth a crap for TMJ. T3's are good for the pain of it but those won't really do much either. If I was you I would go back to your dentist and see if he could give you some sort of muscle relazant like Soma for it. Sometimes putting ice on the side of your jaw that hurts helps relieve some of the discomfort. I don't know if any of this will help you or not but I too have suffered from TMJ and have gone thru exactly what you are going thru.

• United States
9 Dec 06

Yep that's what he gave me. I'm going to let him know when I go back. I've got a bite guard and it helps so that I don't have these migraines as much. But when I do they're awful. The last couple of times (including today) the T3 hasn't worked much - as you said. I had to take 2 today before I got good relief. I will def mention Soma to my dentist. Thanks so much..

• United States
30 Dec 06
I've tried soma before and it didn't help me a ton because as soon as I took it, I was asleep. When I'm eating, that's when I get pain. Nothing crunchy, nothing that requires opening my mouth much. Going to the dentist gives me extreme pain so I've been putting off a filling for about a year.


• United States
9 Dec 06
Thanks. I'm planning on telling him when I go back to see him. Thank you.