Which Mobile/Cellphone do u prefer????

India
4 responses

• India
9 Dec 06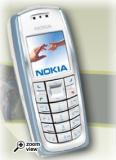 I prefer using Nokia 3120.. I know, it has no xtra fearture or doesn't support any latest technology.., but then I love using it, as its very simple n attractive color mobile.. I think, its enough for me.. Its a cool mobile for cool people.. Mobileum Naanum Nokia..

• India
9 Dec 06
I think, everyone can afford to buy it as its price hav come down to Rs.3000 from Rs.6800. I think it will be of pretty use to people.. Many of ma frnds hav bought it coz it shiles silvery n attractive.. ofcourse, everyone will like being good n attractive rite?? I feel very very comfortable with it.. One drawbac i could point out is tat, we cant use "HANDS FREE" in Nokia 3120.. Tats where it lags, but still i will Prefer using Ma CHWEET 3120..


• India
14 Mar 07
I would prefer Nokia as the best. Because, the battery will be long only in this mobile, just according to my experiance and it also has best featers as like the others and than the other cell phones.

• India
9 Dec 06
mobile...hope i hav different views 4 diff brands... nokia its user friendly and normal people can use that... where as the mobiles like sony ericsson n samsung...its especially for technical people..coz they may confuse the normal people...