Brave Cat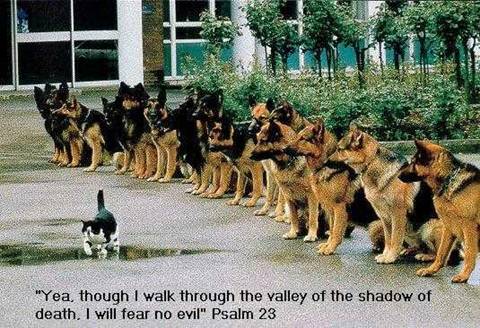 United States
7 responses

• United States
9 Dec 06
Alright let me see the picture. I want to know how you put all these pictures on here,My computer guy was just here. I was trying to show him some of the pictures you sent me and how you did it. He was doing so much he didn't get a chace to tell me he uploaded a picture of me with this Jazz artist Jeff Lorber he used to play with Kenny G. they went their seperate way. but Jeff Lober is still popular in my book. Kenny G id Big Time.


• United States
10 Dec 06
They are well trained dogs. They are police dogs. I have the same picture but with a store behind it.

• United States
9 Dec 06
That is One Brave Cat!!! LOL.

• South Africa
9 Dec 06
hahaha!! I think it's a bit of both brave cat and super obedient dogs! LOL!

• United States
16 Jan 07
I believe it to be both also You would have to be one very brave cat to walk in front of a line of german shepherds and also that line of dogs has to be very obedient.

• United States
4 Jan 07
LOL!! That is one heck of a cute and funny picture. Thanks for posting it! That sure is one brave cat. I don't think that I would care to be walking there if I were that poor cat. However, those dogs actually look pretty well-behaved and as if they have all been told to sit and stay right where they are. I think that the cat is in no danger *laugh* And besides that, the myth that all cats and dogs hate each other is rather silly. Of course they are not natural friends in the wild, canines and felines.. but there is no reason that every dog should hate every cat, or vice versa. If you like cute cat pictures, you might also want to check out this site: http://www.stuffonmycat.com They update with new pictures every day! I love it! ^_^