Telemarketing - a nuisance?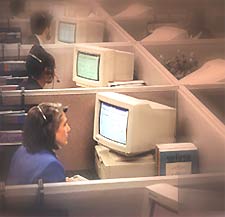 Canada
December 9, 2006 2:32pm CST
What do you think of telemarketing? is it a nuisance? They call you at your home phone and try to sell you something that you dont need. I always get these calls and try to avoid them and in the process I end up missing important calls too. an article about this.. http://www.cbc.ca/news/background/telemarketing/"It's been an overwhelming success and eyed as a model for Canada. In the months after the American Federal Communications Commission established it's "do not call" registry in October 2003, 60 million people signed up, eager to prevent most telemarketers from contacting them at home. The U.S. Federal Trade Commission program was designed to block about 80 per cent of telemarketing calls. Consumers register the number – home or cellphone – they want protected"
9 responses

• India
27 Dec 08
i also do get calls. these calls just irritate when they do disturb at the when we r doing some importent work like driving n studying. they just irritate

• India
27 Dec 08
i hate the last line of every call """conditions apply""

• India
20 Jan 07
Yes telemarketing is completely nuisance. In India the court has passed a law that telemarketer will have to pay Rs 25,000 per call if they make a call without consumers' consent. The consumer will have to go court.

• United Arab Emirates
11 Dec 06
i hate telemarketing...they try to catch us via land line even mobilez! it is soo irritating i had to actuly get angry to get rid of them but gr thy keep calling after now and then!its realy annoying!

• Malaysia
17 Dec 08
i used to be telemarketing here in Malaysia. People here are sporting. They don't take seriously and they also hangs up if they don't want your products. It is just that easy! So don't worry.

• United States
11 Jul 07
I always speak in spanish when I see it's a telemarketer calling. It'll be an 800 number or say unknown number, so i always answer when "Hola?" And they'll start stammering and I'll be like "Quien es? Quien es???" Eventually they hang up all flustered. It's funny.

• Philippines
11 Jul 07
Hi iloveit. When I was 19, I worked as a telemarketer fir a cable company. It was a summer job and I really enjoyed it. It was my initial exposure to the corporate world and it gave some money to pay some stuff. At that time, I enjoyed what I was doing because I am the type of person who likes to talk. Now that I'm older and have become one in some telemarketers' database of 'clients" , I have changed my perception. It is an invasion to your privacy...you get calls from someone you don't know and you ask them how on earth have they gotten your number, you get disturbed at times that you are relaxing and most of the time, these are products and services you are hardly in need of. Sometimes, marketing comes in SMS too. Once I sent a reply to that texter, telling her that same act is an invasion to my privacy. It's time they changed marketing tactics.

• Pakistan
1 Jan 07
these calls are not always annoying... why are people afraid of even attending these calls, if you dont want what they are selling or talking about you can always hang up and ask them to not to call back again and they obviously wont cuz they dont want to waste their time.... the only thing i noticed is people are stupid enough that they think if they are going to attend these calls they are going to be fooled by the telemarketer... BE SMART, you should atleast have guts to talk to anyone, and if its something good u should go for it... but people are usually not confident upon theirselves and they think once they pick up the phone they are going to be fooled.

• United States
9 Dec 06
I hate telemarketing calls but ever since I got rid of my landline phone I have not had that problem. They always seem to find a way to get someones phone number. Spam is also very annoying too and both should be illegal.