Pasola Warrior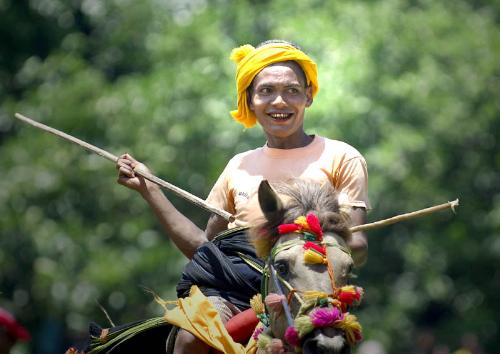 Indonesia
December 9, 2006 10:02pm CST
Another photo from the spectacular Pasola festival on the island of Sumba in the east of Indonesia. I have posted earlier photos (and explanations) of this event. It is a traditional ritual war involving from dozens to 100 or so horsemen throwing spears at each other. This guy is one of the stars - I had photographed him (riding the same horse) in earlier years, but never with the betel nut stained teeth on display. Enjoy it!
2 responses

• Indonesia
10 Dec 06
wow thanks, i came from indonesia and never go to sumba island and see pasola festival myself. hope i'll have more time while i go to bali in the next new year/ thanks 4 ur post, have a gut day, and ALWAYS give best response, +, - for people who are really deserved to earn more and help the community to grow

• Indonesia
1 Feb 07
Thanks for the response. You should come to Indonesia to see all of unique culture here :)

•
10 Dec 06
Great shot! He really seems to be enjoying himself. When you said they throw spears at each other I was pleased to see from the photo that the spears were not tipped. Do they score points/credits for hitting an opponent?