Here`s a challange

Australia
December 9, 2006 11:26pm CST
All the religious people out there !! can 1 just 1 person out there proof to me that god existed or exists today ??
4 responses

• Lithuania
10 Dec 06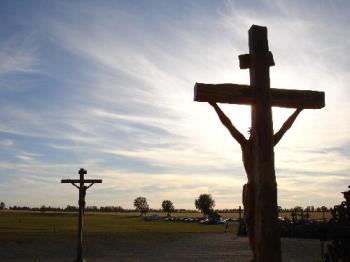 If you are truly searching for God, you are in a wrong place, you should start from the Bible. There is no evidence to proof the existance of God, but there is no hard evidence to disprove His existance. Two thousand years ago jews asked Jesus the same - give us proof that you are the Son of God anf he did numerous miracles. But they still crucified Jesus, because their hearts were hardened and their eyes were blinded. You are on the same ride today. Even if you see miraculous evidence you would not believe, because your heart is hardened.

• Lithuania
10 Dec 06
God is ultimatelly in charge of all good and bad on this world. All the desease, suffering adn pain on this earth is a result of our sin. God doesnt hurt people, we hurt each oother

• United States
10 Dec 06
No, I can't give you proof. And giving you proof would completely negate the idea of a faith based religion. The definition of faith is: belief that is not based on proof. It's all about believing without proof, putting your faith into something that you can't prove with science. I honestly don't know if I'm right. But my faith helps me through hard times and that's enough for me.

• United States
10 Dec 06
No, I'm saying it's up to each and every individual person to put their *faith* in His existence. Proof negates faith, religion is based on faith, so religion can't exist with proof. Once something's proven, you don't believe in it anymore. Do you believe in rocks? Or trees? No, you know they're there. You don't need to believe. You don't need to search yourself or anything else to understand and determine your faith in trees. I have faith in a higher power. I don't expect everyone else to, and it's certainly not my place to tell people they should, but I do.


• Davao, Philippines
10 Dec 06
huh! so you really want a proof? how about you ? we? humans., are the living proof that That God really exists. Its base on the bible in Genesis that God created man in his image and likeness. and that is undisputable! what about the earth we live in , the galaxy, the air that we breathe and all that God mentioned on the six days of creation. If God did not exist maybe we are not here right now ....