INDIAN OCEAN TSUNAMI 2004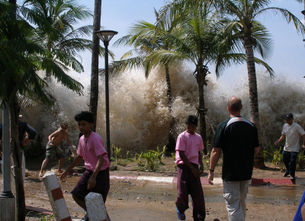 United States
December 10, 2006 12:04am CST
Is there anyone here who witnessed the 2004 Tsunami? What is the region like now? How are the rebuilding efforts going? How is the morale of the people? We don't hear much anymore, but we have NOT forgotten the devastation, pain, and suffering of the people of SE Asia.
3 responses

• Indonesia
22 Dec 06
The tsunami was not possible to be prevented, but Possibly being reduced by the risk. As a sign of nature, as the eruption disaster of the volcano for example, the Tsunami was not possible to be prevented. That possibly was carried out was to reduce the risk or the impact of his negative as maximally as possible. The action of reducing the risk of the Tsunami disaster could be classified to 4 groups, that is: the early-warning system, the evacuation procedure, the protection of the coast, and layout planning of the coast.

• United States
22 Dec 06
Thanks for your response! I see that you are from Indonesia; were you affected directly by the Tsunami? It's a shame that it took so much devastation and loss of life to develop the action plans that you spoke of, but at least the people will be protected by the early warning, even if another disaster cannot be prevented. I'm not being morbid, but the occurrence of the Tsunami is actually a fascinating thing to learn about; I just pray that if another one of this magnitude occurs, the human lives will be spared. I've visited these 2 sites frequently: http://www.waveofdestruction.org/ http://en.wikipedia.org/wiki/2004_Indian_Ocean_earthquake

• Sweden
4 Feb 07
We do hear alot about it over here since Thailand is a place were alot of swedish people go on vaccation. We lost about 500 swedish people there and that is alot for our small country. Many of them kids and so many are yet to be found. A "friend" of mine actually lost her whole family - only her sister came back to her... I think this is a disaster that touched all swedens hearts and we will never forget turning on the news that morning!


• Sweden
8 Feb 07
yeah i also think that closure is important to be able to move on... =(